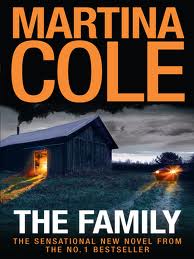 Recently, I read 'The Family', a story which the blurb claims will 'hook you in from the very first page, and keep you there til the very last'.
Unfortunately, I found the opposite to be true: during the month I had this book, I found myself reading almost anything else, and it was a real slog to finish. This should have made it onto the DNF pile, but I hate to leave any book unfinished in case it improves suddenly!
What's it about?
Philip Murphy values family above all. He provides for his mum and dad, organises his siblings, loves his sons, and dotes obsessively on wife Christine. He is also a criminal building a vast empire in Southend, though he tries to hide his cruel side from Christine. Yet, even if she did see the real Philip Murphy, what could she do? After all, 'Once you're in the family, you're in it for life.'
'Once you're in the family, you're in it for life.'
The story opens with a medicated Christine plotting a daring act that she believes will result in the death of at least one of her two sons, then travels back in time to a younger, more naïve, Christine being seduced by Philip and his friendly family, who are the opposite of her nagging mother. Soon she is pregnant, married and enjoying an idyllic life in a perfect home.
Then, one day, she witnesses Philip's true self and realises she is married to a psychopath with no means of escape. From there, Cole traces the fortunes of the family as the sons grow up to take on key roles in the family firm and Christine becomes an alcoholic pill-popper – or, as sister-in-law Breda muses, 'an f-ing liability'.
Meanwhile, Philip continues to buy up the seafront, kill off the competition, and scare everyone around him into compliance, until a shocking event in the final third of the book leads Christine to formulate a plan.
What's it like?
The premise and initial set-up is reasonably interesting and has the potential to grab readers' sympathy for Christine, a naïve young girl whose parents cannot stop her from throwing her life away. Or perhaps the sympathy is all for her parents! The idea that she will one day have to do something that will make her whole family hate her is intriguing.
I found 'The Family' dull and extremely, almost astonishingly, repetitive.
However, I found 'The Family' dull and extremely, almost astonishingly, repetitive. No-one seems to have introduced Cole to the concept of 'show, not tell', so we are repeatedly told that Philip loves Christine, really loves her, yes, really loves her, is completely obsessed by her… Meanwhile, Christine is drinking, she hates her life, Christine is stoned, she hates her life; Philip kills a guy because he can, then gets angry with someone, then kills someone because he can. Philip enjoys being a farmer. Christine is drunk.
Every chapter is extremely short, often less than two sides of A5, but the story still stretches to almost 500 pages, two thirds of which tell the reader the same things. My book group wondered whether the editor had simply washed their hands of the whole thing on the grounds that 'It's Martina Cole: it'll sell hundreds of thousands of copies regardless'. Or perhaps 5oo page tomes simply look more worth reader's pennies than a slimmer volume retailing at the same RRP might?
Final thoughts
Martina Cole is an extremely popular crime fiction author, renowned for publishing hard-hitting, gritty stories about gangsters. Clearly, her style appeals to many as she has now sold millions of copies of her books, which top the Sunday Times best seller lists. I'm not interested in gangsters, so this was probably never going to be my cup of tea, but I was really surprised by the lack of drama and plotting; there is one key incident and one plot twist in 500 pages. Personally, I won't be trying another one.
'The Family'
Martina Cole
Headline, 2010, Hardback