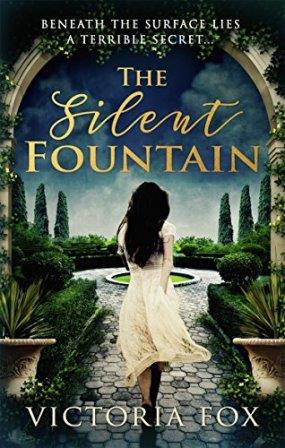 I can't resist the lure of a good secret.
A plot that promises to reveal one will always intrigue me; a narrative that develops this promise effectively will always keep me hooked, reading on into the small hours, keenly anticipating the resolution. Having read 'The Silent Fountain', I feel certain Lucy Whittaker is a girl after my own heart. Or at least, she would be, if discovering the secrets hidden in Castillo Barbarossa and dealing with the fall-out from her affair with a married man left her with any spare time to read.
What am I talking about? This is the blurb:
---
Something happened at that house. I sense it in the walls, the shadows and the dark…
When 25 year old Lucy Whittaker accepts a job at a grand house outside Florence with an eccentric elderly owner she hopes it will help heal the wounds of her affair with a married man that ended in tragedy.
But what first appears to be an Italian summer paradise and an escape from past mistakes, slowly reveals itself to be a beautiful nightmare. Trapped at the house with nowhere to go, Lucy begins to unearth the secrets of its mysterious owner, Vivien Lockhart, who Lucy is forbidden from meeting.
At the centre of the woefully neglected yet savagely beautiful gardens stands a silent fountain. Lucy has not once heard it flow, but it never runs dry, remaining utterly silent, the still water dark and sinister in the palatial grounds of the Castillo Barbarossa.
With the west wing of the house kept locked, and the sounds of footsteps in the attics, Lucy begins to wonder if the secretive owner isn't the only person that's locked away in the house.
When Lucy discovers Vivien's old dairy and a mysterious figure appears by the silent fountain, she begins to unravel a tragic story of a psychotic, obsessive and possessive love triangle buried for 50 years, but whose legacy is yet to unfold.
---
Tragic, psychotic, obsessive, possessive…phew! Hello, drama. This is a story that the publishers promise has shades of 'Rebecca', one of my favourite books, so it was always going to tempt me, and I have enjoyed the two women's stories unfolding.
Today is the penultimate stop on 'The Silent Fountain' blog tour and I'm delighted to welcome author Victoria Fox to Buried Under Books to discuss one of the two main characters in this dual narrative.
Over to Victoria:
---
Lucy Whittaker
Lucy Whittaker takes the contemporary strand in The Silent Fountain. Lucy is frantic to escape London after a love affair goes tragically wrong, so she accepts a job in Tuscany, at the mysterious Castillo Barbarossa, in order to hide from the world. But also hiding at the Italian mansion is its glamorous owner Vivien Lockhart, a reclusive one-time film star. Through the novel Lucy uncovers the dangerous secret at the heart of the castillo, and the women realise they have more in common than they realised.
Lucy's personal story is one that grabbed me right away. It wasn't enough to have her running from a romance gone wrong…it had to be more than that. I don't want to give away here what happened to her – or rather, what she made happen – as the truth isn't revealed until later on in the novel. But her motivation got me thinking: why would Lucy have behaved in such a way? Why would she have gone to such drastic lengths?
Lucy interests me because she's one of us. She's an ordinary, unremarkable, mostly sensible kind of person – until a moment of madness turns her world upside down.
She's strong because she's had to be. As the eldest of four sisters, Lucy was forced to grow up fast when her mother died when she was a teenager. Her sisters were still small, so Lucy became a sort of surrogate mother to them, at the same time as looking after her grief-stricken father and trying to work through her own unhappiness. She's always lived on the straight and narrow, tried to set an example for her sisters and give them boundaries and rules to live by, struggling to paper over the cracks left by their mother's absence. As a result, Lucy herself didn't have a chance to grow up in a normal way. She wasn't able to make the mistakes teenagers make, and, in doing so, learn from them. It isn't until later in her life, when she moves to London and finally forges a future for herself, that she reaches out for adventure. What she doesn't know is how severely that adventure is going to affect her life – and her family's.
Lucy's situation escalates as The Silent Fountain progresses, with ghosts from the past coming back to haunt both women at the Barbarossa.
Lucy interests me because she's one of us. She's an ordinary, unremarkable, mostly sensible kind of person – until a moment of madness turns her world upside down. Who hasn't ever made a bad choice, or watched a decision go horribly wrong? Who hasn't regretted something they've done but been utterly powerless to change it? Lucy's situation escalates as The Silent Fountain progresses, with ghosts from the past coming back to haunt both women at the Barbarossa. Lucy thinks her Italian castillo will keep her secrets for her…but a feisty London reporter, hellbent on tracking her down, has other ideas.
The Silent Fountain hosts a cast of remarkable characters, from the faded Hollywood movie star to the passionate Heathcliff-esque hero and his creepy, seductive sister. Lucy is the one who grounds us. In many ways, she's our eyes and ears. I hope that by the end of the novel she hasn't just forgiven herself but that we've forgiven her, too – but you'll be the judge of that.
---
Oooh, intriguing! My review will be up next week (hopefully – if the four month old behaves!) but suffice to say I have really enjoyed reading this suspenseful story.
Many thanks to Victoria Fox for visiting Buried Under Books and sharing your thoughts about your creation.
If this has given you a taste for the story, you've not long to wait – it's published tomorrow. In the meantime, you may like to learn more about the elusive Vivien Lockhart, whose character profile can be found here.
In fact – why not follow the tour?
'The Silent Fountain',
Victoria Fox,
HarperCollins (MIRA), 2017, paperback
Many thanks to the author and publishers for sending me a copy of the book in exchange for a place on the blog tour.