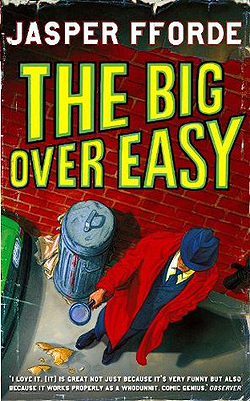 Humpy Dumpty's dead. Whodunit?
If you're thinking, "erm…he fell?" then you need to read this book. Although he was basically a good guy, businessman Humpty Stuyvesant Van Dumpty III had made a few enemies and was last seen, horribly drunk, boasting about his ability to summon up rather a large sum of money…
What's it about?
This is the first installment in genre-crossing Jasper Fforde's 'Nursery Crimes' series, and so DI Jack Spratt, head of the Nursery Crimes Division of Reading Police Department, is assigned to investigate Humpty's fall and subsequent death. Was he pushed or did his dangerous habit of sitting, often drunkenly, atop tall walls (despite being an egg and therefore rather vulnerable to heights and concrete) finally do him in?
Jack Spratt is determined to find out, but he's under rather a lot of pressure: if the case proves to be nothing, his department will be closed due to his poor prosecution rate (only last week three pigs got off scot-free despite boiling Mr Wolf alive in what was clearly a premeditated act); if the case is something, local super-cop DCI Friedland Chymes wants it, and he won't take no for an answer.
What's it like?
Brilliant. Amusing, innovative, surreal and frequently childish. The puns and wordplay are groan worthy, but there's also a brilliant strain of literary detection running through it all. It really is quite a wonderful mixture of ideas and characters, including key nursery rhyme details (When DS Mary Mary learns that Jack Spratt's wife loved fat she comments: 'Isn't that very unhealthy?' and is informed 'Very. She died.') and more random details (Mary is repeatedly advised that being from Basingstoke is 'nothing to be ashamed of').
Set in Reading, Fforde cleverly mixs existing places with fictitious ones to create an enviroment in which anthropmorhised bears and illegal spinning-straw-into-gold dens are just a part of ordinary life for the town's inhabitants. In what other world could Humpty possibly be considered a sex object?
Just like his Thursday Next series, Fforde creates a world in which everyone reads and cares about literature, so there's plenty of fun to be had spotting references to other texts. Oh and Prometheus becomes his lodger. Because. Y'know. Why not? After all, he's got nowhere more interesting to go since no country dares grant him citizenship and risk the wrath of Zeus, who is not happy that the whole infinite-liver-pecking-out punishment has been curtailed. It's this blending of myth and reality that makes the tale so wonderfully fun.
What's to like?
Fforde depicts a world in which accurately resolving a crime is less important than writing it up in best selling magazine 'Amazing Crime Stories' and your circulation figures mean more to your superiors  than your ethics. (At one point a detective reflects that another detective would have done better to release one captured gang member from the group in order to recapture him in a day or two and so stretch out the headlines.) From this central premise many delightfully logical but ridiculous situations arise. Some of the best examples can be found at the start of each chapter, where Fforde treats readers to 'extracts' from fictional newspapers and the like.
For instance:
'Plans for a National Genetic Database could be shelved if the Guild of Detectives gets their way, it has emerged. 'Cerebrally-based deduction of perpetrators has fallen over the years,' wrote Guild member Lord Peter Flimsey in a leaked document to the Home Office funding committee, 'and we all have a duty to protect the traditional detecting industry against further damaging loss.' MPs were said to be 'sympathetic'…'
And this:
'Blatant red herring and overused narrative blind alleys could land a detective in hot water if the Limited Narrative Misdirection Bill becomes law later this year….'
And just wait 'til Jack gets given some beans…
Final thoughts
I only finished reading this a couple of weeks ago and I'm already struggling to recall who did for Humpty in the end (although, upon reflection, there's a really good reason why!) but this isn't a criticism. After all, the sooner I forget it all the sooner I can have the joy of reading it again!
Like most books of this nature, it might be best digested in small chunks rather than devoured in one sitting; it is genuinely funny and enjoyable throughout, but I found I was best able to appreciate the madcap nature of it all in small doses.
A dazzling mix of nursery rhyme nonsense, crime detecting, pun creating and sheer fun. Recommended.
Want to know more about Jasper Fforde? Try this.
'The Big Over Easy',
Jasper Fforde,
Hodder and Stoughton, 2005, paperback
My reviews of a selection of Fforde's other books can be found here:
'One of our Thursdays is Missing'