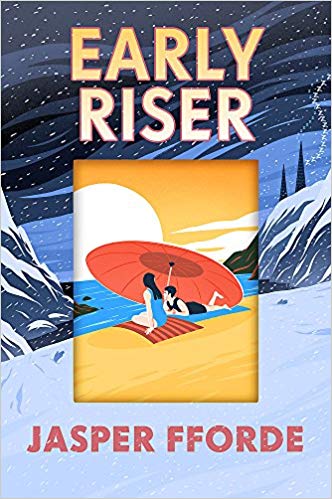 "There were no fines, but the negative feedback in SleepAdvisor could impact upon the following year's popularity – and rates."
The wonderfully inventive sci-fi / fantasy / literary / comic genius Jasper Fforde is back with a standalone novel introducing the Winter Consul Service and Charlie Worthing: novice Consul, ethical thinker and reluctant dreamer…
What's it about?
Every winter the human population hibernates. While they rest, deep in sleep, Winter swirls around them, populated with English Villains, Womads, Wintervolk and the Winter Consuls, who exist to protect the majority of the population from all the previously outlined dangers.
It's a profession that attracts those who are brave or foolhardy, lacking in family ties, and definitely not afraid to die. Enter Charlie Worthing, otherwise known as 'Wonky', whose sudden decision to serve as a Consul is followed by a series of increasingly unwelcome incidents that leave him stranded in Sector Twelve, home of the weirdest weird stuff that deepest, coldest Wales has to offer.
Soon Charlie is involved in secrets within dreams, potential corporate espionage, Winter bargaining and the hunt for the mysterious Gronk. Most critically, he finds himself wondering whether the nightwalkers – shambling zombies created by their reliance on the dream-suppressing, safe-hibernating drug, Morphenox, (think 'Shaun of the Dead' style zombies, but easily appeased by a Snickers or Tunnock's Teacake offered at regular intervals) – might not be brain dead after all…
What's it like?
Delightfully surreal. Humorous and inventive. Expect full immersion in a landscape where almost anything can happen, and frequently does.
Fforde's characters will happily discuss the finer points of language in the middle of a tactical negotiation and his Villains insist on conducting serious negotiations over tea and cake – freshly brewed tea, you understand, not stewed muck from a flask. This is all just wonderfully bonkers, with enough quotidian reality incorporated to keep you giggling, enjoying and remaining on board with the madness.
There's a crime and there's a hero, a story and a solution, but mostly this is us encountering Sector Twelve with Charlie and discovering that, truly, nothing is how it seems.
I found the ending a little abrupt, but there are no loose ends and it seems clear that this will remain a superbly engaging standalone tale of evil corporations and heroic civilians.
Final thoughts
Superb fun with the King of Comic Literary Fantasy, Jasper Fforde. If you like wordplay, satire and exploring a reality subtly different yet frightening similar to your own, then you'll love this.
'Early Riser',
Jasper Fforde,
Hodder & Stoughton, 2018