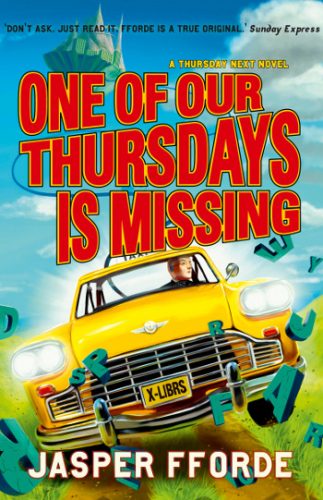 This is a 'Thursday Next' novel and the short version of my review is as follows: it is excellent.
If you like books, you should probably read it, but if you've not read anything by Fforde before, or if you've yet to be introduced to the fiction hopping phenomenon that is Thursday Next's BookWorld, then you should probably start by reading 'The Eyre Affair', in which Jane Eyre is kidnapped by a supervillain.
What's it about?
Literally…where to begin? *takes a deep breath*
So. There's a genre war looming in the Book World, which has just been rebooted as a geographical entity rather than existing as tomes in the Great Library. The Council of Genres need renowned literary detective Thursday Next to help them negotiate a treaty, but she's missing, possibly retired to the Real World.
However, living quietly in speculative fiction is the written Thursday Next; can she stand-in for the real Thursday at the negotiastions? Better yet, could she find the real Thursday and reveal the truth behind a scheme that threatens to destroy the BookWorld?
Previously rejected by Jurisfiction for being too meek and mild to make a detective, the written Next is initially surprised to be offered the opportunity to investigate a novel that has met with an accident and frightened by the idea of taking the real Thursday's place at the talks, but as Fforde's madcap adventure develops, she begins to develop more confidence, more zest for life and a surprising talent for shooting a gun. Could she even be the real Thursday in disguise?
What's it like?
Reading 'One of our Thursdays is Missing' is like bathing in a sea of delicious literary allusions and jokes, spiced with amusing danger and engaging satire. Finding Thursday might be the plot but the genre of this fantastical quest shifts as Fforde takes us from one delightful escapade to another witty interlude. Expect to enjoy the myriad diversions offered the all-powerful Men in Plaid, a chatty elephant who files intel for agents and a robot butler who makes a mean martini – but that's just a tiny sample of the delights on offer.
As befits a book that is part of a well-established series, there's so much in here to thrill a loyal reader. Initially I felt a little wrong footed by Fforde switching the established heroine for a, clearly inferior, stand in. Fforde emphasises this wrong footing, starting the second chapter by evoking a strong sense of Deja vu, then smashing it and revealing the underlying tensions between the fictional characters evoking Thursday's world. Written Thursday is simply not as interesting, but this changes as her character develops and it means we see the new BookWorld and the Outland from a very different perspective (as does Thursday when she's fired through a textual sieve…ouch!)
Final thoughts
This is another truly brilliant, inventive, magical ride of a tale. 'One of our Thursdays is Missing' is packed to the brim with jokes, silly names, explicit use of literary tropes and delightful instances of wordplay, and still manages to tell a genuine story with intriguing questions: what happened to the real Thursday and why was a condemned novel destroyed? The conclusion makes perfect sense in a magnificently silly way, leading one character to reflect in awe: 'That explanation…was of a complexity that would gather plaudits from even the most intractable of political thrillers.'
I might me making this sound complicated, but it really isn't. My advice? Read. Enjoy. (But it is best to read 'The Eyre Affair' first, which is fine, because that's also really good fun.) Perfect for any fans of fantasy, metafiction or books.
'One of our Thursdays is Missing',
Jasper Fforde,
2011, Hodder, paperback
My reviews of a selection of Fforde's other books can be found here: