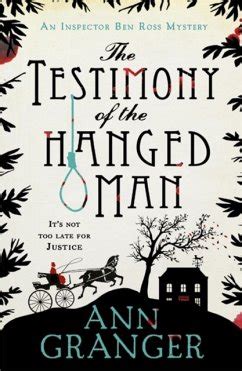 "I confess freely that I cut his throat with a carving knife..
"…in the morning I shall make the short walk from this condemned cell to the gallows here at Newgate. I understand the scaffold has been erected in the yard, inside the prison walls, not outside in the street. Is that so?"
Chatty convict James Mills seems remarkably relaxed on the eve of his execution, coolly reminiscing about his brutal murder of a man he felt had wronged him, so it's left to Inspector Benjamin Ross to enquire why the prisoner has dragged him away from his Sunday roast, if not to beg for clemency.
Thus begins a most surprising tale of a murder witnessed in secret sixteen years before…
What's it about?
When a convicted murderer claims, on the eve of his own state-sanctioned death, to have unexpectedly witnessed a separate murder in 1852, Inspector Ben Ross is told by his superiors to ignore it. Surely Mills made up the tale for his own entertainment, or else why didn't he report it at the time? Furthermore, even if such an unlikely tale were true, who could investigate such a vague and unsubstantiated tale? Police resources are limited and there's a wealthy husband seeking his missing wife and child.
Luckily, Ben's wife, Lizzie, is just as keen to investigate as her husband. With her maid, Bessie, she pursues the story to Putney Heath and becomes convinced that Mills told the truth: there was a murder and justice must be done…
What's it like?
This was an enjoyable 'cosy crime' with lots of chatter between characters and plenty of flashes of humour. ("I told [the prison chaplain] I had confessed; and did not see that I was obliged to repent as well!")
I liked the characters and, although this story is part of a series featuring the official and amateur sleuth, it was absolutely readable as a standalone work. That said, the final chapter, featuring Lizzie, her aunt Parry and her nephew, Frank, was completely unnecessary and presumably present purely for the enjoyment of long term series readers.
I found the dialogue a little unconvincing in places, obviously designed to inform the reader of interesting or relevant bits of London history (as in the example above, where the hanged man and the Inspector discuss the recent decision to remove hangings from the public gaze), but this didn't detract significantly from my enjoyment of the story, perhaps because the details selected were genuinely interesting!
Final thoughts
I always enjoy Victorian mysteries and this was an intriguing premise, well executed. I'd be happy to read another in the same series and see what other crimes Ben, Lizzie and Bessie can solve together.
'The Testimony of the Hanged Man',
Ann Granger,
2015, Headline Publishing Group, Paperback