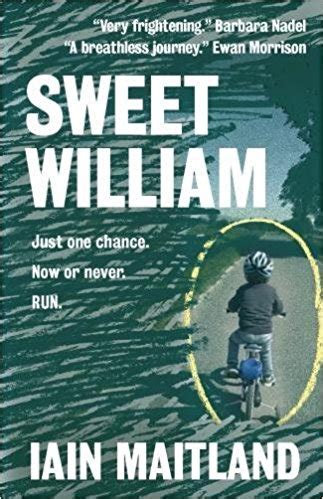 'I will come for you my little boy and I will smile at you and tell you I'm your daddy and then we'll go away together hand in hand and we'll live happily ever after… Just you see if we don't.'
Utterly chilling in it's presumption, menacingly understated in it's threat, this book jacket quotation is the perfect introduction to the first person narrator of much of Iain Maitland's stunning fictional debut, 'Sweet William'.
I think this quotation is so incredibly revealing, that I'm tempted to just leave it here. After all, the point of this review is surely either to tempt you to read 'Sweet William', or to provide you with sufficient information to make up your own mind. Arguably, the quotation above does both, but I'll add a few words nonetheless!
What's it about?
An angry father who wants his boy back. A foster family under pressure. Mental illness and type 1 diabetes. 48 hours in the life of a desperate father and his dying boy. It's a chase, a man hunt, a tale of opportunities missed and relationships pushed to breaking point.
What's it like?
Captivating. Enthralling. Heart-breaking.
Our narrator is frightening in his fury, when we don't know how far he will go, what he will do, to 'protect' his sweet William, but he's even more chilling when he's calm: explaining his choices to us, justifying them, trying to convince us of their necessity. Maitland is completely unafraid of harming his characters, minor and major, though there's nothing gratuitous or gory here. In fact, withholding some information about exactly how our narrator makes his escape only makes us cold to our bones:
'I've got a cut on my hand. Did I tell you? … And I've a bruise too. Just to the side of my left eye. It's the sort of bruise you'd get if you turned round fast and caught it on the side of a door. Maybe you weren't quite paying attention to what you were doing. And a scratch, three of four of them to be honest, down my right cheek… I had a bit of trouble.'
As the trouble escalates, our narrator continues to weigh up his decisions, to imagine what other characters will to, and to devastate lives without ever comprehending the significance of his actions beyond what they mean for him and his sweet William.
I found this completely unputdownable – the pace is perfect and you're pulled along, hands practically over your eyes, heart in your throat, to see what William's daddy will do next. (Some readers may need mini recovery breaks as this is quite a dark read.) Personally, this is my favourite narrator since Caroline Kepnes' Joe (a bookshop proprietor possessed by an equal need to 'protect' another person in her fantastic debut novel, 'You').
Final thoughts
This is a stunning novel. As the story moves towards its crescendo, various characters have their final appearance on stage, and each one is powerfully wrought. If you need all the 't's crossed and the 'i's dotted then you might wish there were more, but more would undermine the terrible power of each conclusion and unduly emphasise the beauty of the whole structure. The honesty with which Iain presents the ultimate frailty of human reasoning and everyone's capacity to cause harm is little short of devastating.
This novel won't have a sequel, but I'm excited to hear that Iain Maitland's next foray into fiction will arrive in April 2019. 'Mr Todd's Reckoning' is another standalone thriller, but Iain also has the publication of 'Gayther & Carrie 1' (the first in a planned series of cold cases) in October, so there's plenty to look forward to!
Highly recommended.
'Sweet William',
Iain Maitland,
Contraband, 2017, hardback
Iain Maitland
It won't surprise you to learn that a writer in such complete control of his material is not really a debut author at all. Although 'Sweet William' is his first thriller, Iain is also the author of 'Dear Michael, Love Dad', a memoir published by Hodder & Stoughton in 2016, and a follow-up, 'Out of the Madhouse', was published by Jessica Kingsley Publishers in 2018*. (These focus on his son, Michael's, mental health battles.)

*If you're wondering why all three books have different publishers, I can't comment on the first two, but am aware from Iain's panel appearances at CrimeFest18 that mainstream publishers were hesitant to publish 'Sweet William' without making significant changes to the story. I'm sure they are regretting their refusal now: 'Sweet William' is completely unforgettable.