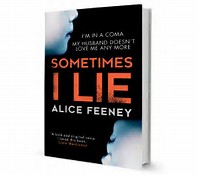 I love unreliable narrators.
So when I saw this story in which the main character openly announces, 'Sometimes I lie', well, I was hooked even before I read the rest of the blurb.
This is journalist Alice Feeney's debut novel and, yes, for fans of psychological thrillers, it is absolutely as good as it promises.
What's it about?
Amber Reynolds is in a coma. As she lies helpless in her hospital bed, she tries to remember the Accident which placed her there, and work out why there is so much tension between her husband, herself and her sister. Just what was happening in her life before she ended up here?
So far, standard current psychological thriller stuff, but. The way it's executed. Oh my.
What's it like?
Chilling. Relentless. Compelling.
The reader is privy to three time periods: Now, Then and Before. Although the three time periods are distinct, they interweave to form an increasingly disturbing story.
'Now' focuses our attention on Amber-in-a-coma and includes a deeply unpleasant scene when she is at her most vulnerable. (Feeney has stated that although this was the most difficult scene to write, she felt it was very important to include it. It may be a little too disturbing for some readers.) As Amber gradually pieces together what has happened to her, we must surely sympathise with her.
'People say there's nothing like a mother's love, take that away and you'll find there is nothing like a daughter's hate.'
'Then' explores the events of the days leading up to Christmas Day and Amber's accident. This is where we see Amber's lies firsthand, but her motivations take time to crystallise and clarify.
Finally, 'Before' tells the story of a friendship between two young girls and is written as diary entries. Although these might seem fairly innocent at first, ultimately they prove to be the most explosive and at the root of everything that came later.
Who do you trust?
I LOVED reading this book; it was one of those which kept me reading deep into the night, long after the baby had settled in her own bed and any sensible mother would be trying to get some sleep.
'I tread carefully over a carpet of lies, trying not to disturb them.'
The twists and turns are amazing and I thoroughly enjoyed them all – until the final pages. I just don't understand the final twist. At all. Having thought about it a little, I've decided to simply disregard it as just one twist too many and I continue to hold the overall story in an extremely high regard. (If you've read this and have any insights into how the ending works, please do let me know!)
There is one particularly chilling twist that I definitely did not see coming and I quickly reread a few chapters to help me view events in a different way. It worked beautifully.
Final thoughts
I thoroughly enjoyed reading this (as did Ali Land, author of the completely fabulous 'Good Me, Bad Me', so there's another great recommendation there,) and heartily recommend it to fellow psychological thriller fans. The characters are perfectly developed and chillingly unveiled, leaving you wondering – who is the real villain in this story?
Dark, disturbing, twisty and terrifying, you will love this book.
'Sometimes I lie',
Alice Feeney,
HQ, 2017, paperback ARC
Many thanks to the author and publishers @HQstories for providing me with a free copy of this book at their excellent blogger event.