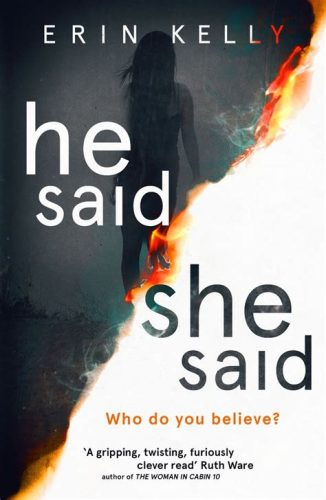 He said / she said: many rape cases are fought over belief; who will the jury trust?
When Laura witnesses a brutal attack on a traumatised young woman, she calls the police and so begins a process of events that will leave her panic stricken, in hiding and fearing for her life.
Now-husband, then-boyfriend, Kit, didn't see the attack, but he trusts Laura. He supports her. But what if – what if Laura was wrong? Laura knows what she saw. Or does she? In any event, it may turn out to be what she didn't see that will finally rip her world apart…
What's it about?
Eclipses. Viewpoints. Abuse.
Fifteen years on from witnessing an eclipse in Cornwall, Laura and Kit have forged a life together, but their fears continue to haunt them. When Kit leaves Laura to witness an eclipse from the Faroe Islands, it sparks a new chain of events that may ultimately destroy them.
What's it like?
Slowly compelling, then utterly gripping. Ultimately chilling. This is a story about people and truth and trust and fear. The first half may feel like a long, slow build-up, but if you're paying attention, it's deeply absorbing. Small details that may seem irrelevant or just odd will finally shift, like a kaleidoscope coalescing, into a deeply shocking conclusion.
Kelly structures the book into five sections, following the five phases of an eclipse. I enjoyed this structure and the story, which is told in alternating points of view (Laura and Kit) and shifts between two time periods (now and fifteen years earlier). The final chapters are, perhaps, the most compelling, as they reveal the final fall-out of all that has gone before, but this is one of those books that will have you going immediately back to the beginning to revisit moments in light of your new knowledge. (And yes, it works.)
Final thoughts
I worried this was over-hyped; it isn't. Kelly has created another cracking thriller which reminds us that the people we should fear the most are, terrifyingly, probably those who are closest to us.
This must provide excellent material for book group discussions and has reminded me to keep looking out for Erin Kelly's books.
(My review of one of her earlier, equally compelling, novels, The Burning Air, is here.)
'he said / she said',
Erin Kelly,
2017, Hodder & Stoughton, paperback