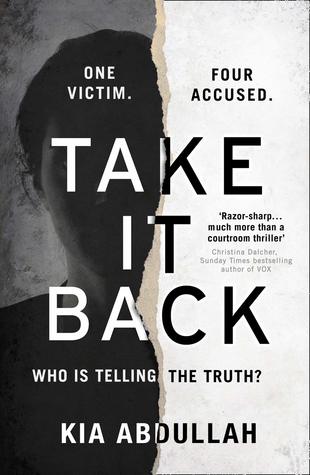 How did it come to this?
We've all said things we later wish we hadn't, but Kia Abdullah takes this concept all the way to trial in her sad and powerful court room drama, 'Take It Back'.
What's it about?
'Take it Back' is a classic he said / she said narrative that presents the build up to and dramatic crescendo of a controversial rape trial.
Disfigured and disabled, Jodie Wolfe is used to being victimised and abused, but when she's raped by a group of young men from her school she decides to seek justice.
Amir, Hassan, Mo and Farid are four good friends who insist that Jodie's story is a lie even more grotesque than her misaligned face. Their lawyers are determined to prove it.
When a young, Muslim, former barrister called Zara Kaleel takes on Jodie's case, the media is delighted. Opportunities for creating newspaper headlines and destroying community cohesion abound as a modern Muslim woman openly supports a disabled white girl from an impoverished background against four Muslim sons of hard working immigrant families.
Who is telling the truth? Will Zara's involvement harm her or her family? Who will win and what will be lost in the process?
What's it like?
'Take it back' is a disturbing and largely convincing narrative about a court case and public perceptions of race, religion and rape. It is both excruciating and very well handled when the defence have to call a witness to explain that rape can and does happen to unattractive girls as well as conventionally attractive ones.
As always with books that particularly intrigue me, I've read a few reviews online and I'm surprised not to find anything written about Sameena Tanweer, whose reaction to her son's arrest is swift, decisive and, ultimately, more significant than anyone could guess. Her reaction is also disturbing, as her thoughts drift to, 'A vision of a nine-year-old Hassan', 'up in his room one sunny afternoon, standing over his cousin as quiet as a mouse', and the vision makes her hands start to shake. Just what is Hassan capable of?
The narrative is consistently dramatic, the pace pushing us onwards to a disturbing and unsettling, though quite logical, ending. Along the way, Abdullah touches on issues but doesn't examine them fully. Characters reflect briefly on their situation but ultimately, this is a thriller and in order for the shocks and thrills to spill, there can't be too much soul searching – we'd have to know the secrets in their souls, and Abdullah is saving those for the final shocking pages…
Final thoughts
Although Abdullah's narrative focuses on the trial, her heroine isn't the victim but her legal support. Zara Kaleel's relationship with her family, the case and the media seems convincing, but I find the ending deeply frustrating. Jodie makes a decision that is surprising, then another character suddenly decides to try on a suit of honesty and 'gutsy' Zara is forced to reach a further decision that will challenge everything which has gone before. I feel it's a bit of a shame that Jodie, in a sense, remains a victim, insofar as she attempts to take control of her destiny, but can't quite. I can't say more without spoiling the ending, but I'd be very interested to know what other people thought of the ending.
Overall, this was a disturbing and convincing story about a rape trial and the difficulty of ascertaining the truth. An interesting read, though I felt that this could have been deepened into a real examination of the issues raised, rather than focusing on the thriller-ish aspects.
'Take It Back',
Kia Abdullah,
2019, HQ, paperback ARC
Many thanks to the publishers for providing me with a copy of this book in exchange for an honest review.