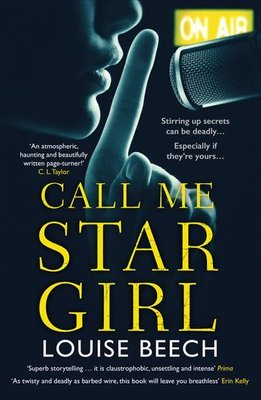 I have been lucky enough to meet Louise Beech in person, and she is lovely. Really lovely.
But my word, her characters can be thoroughly horrible to each other!
Expect child neglect and abandonment, dark, (consenting adult!) sex games and the brutal murder of a pregnant woman – and those are just the secrets and scandals alluded to by the blurb!
What's it about?
Pregnant Victoria Valbon was brutally murdered in an alley three weeks ago – and her killer hasn't been caught.
Tonight is Stella McKeever's final radio show. The theme is secrets. You tell her yours, and she'll share some of hers.
Stella might tell you about Tom, a boyfriend who likes to play games, about the mother who abandoned her, now back after fourteen years. She might tell you about the perfume bottle with the star-shaped stopper, or about her father …
What Stella really wants to know is more about the mysterious man calling the station … who says he knows who killed Victoria, and has proof.
Tonight is the night for secrets, and Stella wants to know everything…
What's it like?
Chilling. Compelling. Devastating.
Stella is a character you can't help but feel for. Abandoned by her mother on the cusp of her teens, but not before said mother taught her never to be boring, Stella's emotional equilibrium is dangerously fragile:
'Anxiety tightens my chest. He's going to leave. He got there first. I bored him after all. I played dead and he's still going to abandon me.'
As the narrative develops and the plot twists pile up, Stella's fear of being boring becomes overshadowed by her fear that she is once again losing the person she loves. It's impossible not to ache with Stella, whilst also trying to work out who, exactly, killed Victoria Valbon.
Chapters alternate between Stella delivering her final show at the radio station and her mother's account of the months leading up to this night. At first a bit of a slow burn, the menacing atmosphere ensures readers keep turning pages eagerly until the big question really start to bite. Who killed Victoria? What does The Man Who Knows really know? And is Stella losing her mind?
Final thoughts
This is a wonderfully tense, beautifully crafted and totally devastating tale of love, loss and desire. Louise Beech is a fearless author whose story will leave an emotional impact that lingers long after you close the pages. Perfect.
'Call me Star Girl',
Louise Beech,
2019, Orenda Books, paperback