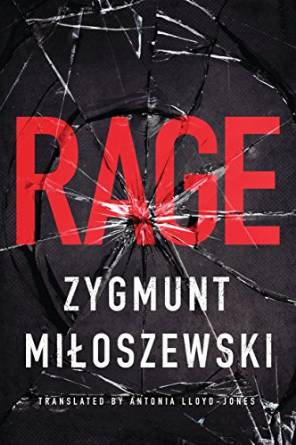 What does it take to make a man kill?
Prosecutor Teodor Szacki is forced to discover some difficult truths in this stunning conclusion to Zygmunt Miloszewski's loosely connected trilogy. This works perfectly as a standalone novel, exploring the work of prosecutors in Poland, contemporary social attitudes towards domestic abuse and the true driving forces behind male and female violence.
What's it about?
When bones are discovered in a bunker in Olsztyn, everyone assumes they're relics from the German occupation of Poland, but it soon transpires that these bones are only a few days old, and that their chemical removal began when their owner was still alive…
Prosecutor Szacki quickly realises the dead man's wife is hiding something, but it seems the investigation is stalling, until another victim is discovered, horribly mutilated. Could someone be targeting domestic abusers?
Famously straight-laced, Szacki has no sympathy with vigilantes, but when his own family is threatened he begins to understand how one can be driven beyond one's principles into pure rage…
What's it like?
Chilling in its depiction of classic male and female attitudes. Occasionally gruesome. Consistently fascinating.
The opening scene is quietly disturbing in an eerie manner that sets the style for the whole book. We are invited to:
'Imagine a child who has to hide from those he loves…fear makes everything look different…The [painting] child is afraid to go change the water, and eventually all the paints are smeared with sludge. Every little house, every smiling sun, and every little tree comes out the same nasty black and blue…that's the colour of the Warmian landscape tonight.'
This murky setting is currently hosting a murder, and, contrary to how novels and films portray the ease of killing a victim, our murderer is struggling to finish the job he is so determined to conclude. The shockingly cold musings on the physical challenges presented by murder are thrown into even sharper relief by the suggestion that this murderer is none other than the straight-laced prosecutor we are expecting to be our hero…
What's to like?
I loved this story and the way it's written. It's chilling in an intensely, genuinely human way. Szacki is a man who occasionally wishes to be better but sees no option other than to embrace his own misogyny. His lack of patience with what he terms a 'pseudo panda' (a victim of psychological domestic abuse) is utterly convincing and appalling in the way that only real human interaction can be; this is no psychotic monster lurking under the bed; this is a respected, respectable member of society who has never hit a woman, but look what happens if we find the right provocation.
Miloszewski's cleverly constructed novel has been translated into English by Antonia Lloyd-Jones, who captures a wealth of detail to construct Poland. This is Olsztyn's frustrating traffic light system:
'[The people] drive up, come to a halt, and sit there like sheep, waiting for the green light while their feet merge with the pedals, and they grow long white beards that reach their knees, and clawlike nails on their fingertips.'
I don't think Olsztyn's town planners will be very pleased with the depiction of their town, but the setting is evoked very effectively and contributes significantly to the lurking unease that characterises the novel as a whole.
This is enjoyable to read, occasionally humorous, thought-provokingly honest and, although the ending of the crime arc is less convincing than the beginning (the arch manipulator/puppet master is perhaps less interesting and less convincing than the other protagonists), the final conclusion perfectly reinforces Miloszewski's ultimate point about responsibility. The subject matter is explored sensitively with intriguing insights into society's perspectives on domestic violence.
Final thoughts
Miloszewski is a respected contemporary Polish author who has written two other books featuring Prosecutor Szacki (both set in other Polish cities). Both have been made into films and he has won multiple awards, including the Polityka Passport for Literature 2015 for 'Rage'. Translation rights to his books have been sold in thirteen different languages and I am definitely interested in reading the earlier novels – 'Entanglement' and 'A Grain of Truth' – to learn more about Szacki and more about contemporary Polish society.
I didn't really see the point in the newspapery summaries placed before each chapter began; I assume they are to reinforce the social context of the story, but (with the exception of the first one) I didn't feel they added much to the narrative and tended to skim them.
As a crime thriller, it's perhaps a little wordy for some readers, but I loved the prose style as much as the story, and if you like gory deaths then you'll love the central murder.
Recommended.
Want to know more? Try this article  or you could visit one of the other stops from the blog tour that ran around the book's publication in English.
'Rage',
Zygmunt Miloszewski,translated by Antonia Lloyd-Jones,
2016, Amazon Crossing, paperback
Thanks to the author and publishers for providing me with a free copy of the book in exchange for an honest review and a place on the blog tour.