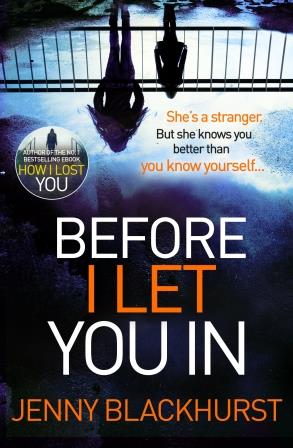 When is a patient not a patient?
When they have no desire to get better, and every intention of causing you harm…
Jenny Blackhurst's debut novel, 'How I Lost You', caught my eye a few months ago at Crimefest16. It looked fascinating but somehow slipped out of my immediate TBR pile and disappeared. Having found Blackhurst's debut so tempting, I was delighted to get my hands on a copy of her second novel, 'Before I Let You In'. It's a psychological thriller (although the emphasis on 'letting in' in the blurb reminded me of 'Let the Right One in' by John Ajvide Lindqvist, which involves vampires and is therefore quite a different story!) and promises to spin a tense tale of manipulation and madness.
What's it about?
Karen is a psychiatrist. She fixes people. That's what she does, professionally and for her friends.
But when Jessica Hamilton arrives in her life and insists, "You can't fix me", Karen struggles to maintain her professional persona. Jessica knows things about Karen, about Karen's friends.
Soon, Karen's friends are in danger, but they're refusing to listen to her warnings. How will Karen keep them safe if they won't accept that they're at risk?
What's it like?
Instantly intriguing. The story opens on a therapy session and, contrary to our expectations, it's Karen receiving the therapy. Why? What happened? And exactly what has an incident that happened when she was four got to do with her new patient, Jessica Hamilton? These snippets of therapy sessions recur throughout the book and gradually your perspective on them changes. (As soon as I reached the end I went back and read them all with a clearer understanding. It's impressive that these work so well in their initial context but also hold up under the scrutiny of rereading.)
Next we join Karen as she meets Jessica and is almost instantly unsettled by her. Jessica seems to know exactly what to say to put Karen on edge, and as we learn more about Karen's life we see why. Karen has secrets that she doesn't even tell her best friends, Bea and Eleanor, and as the story progresses we see her start to unravel, even as she tries to help her friends.
'She hadn't had the dream for three days.'
Blackhurst makes effective use of multiple narrative viewpoints to help build a compelling story where danger seems imminent but the readers' uncertainty over the true source of the danger grows until a startling event occurs. This event is abrupt and came as a shock to me, despite the warning signs previously, but Blackhurst clearly wants to focus our attention on the consequences of this event rather than the initial discovery.
The genius of the narrative is the mixture of unsettling detail mixed with mundane domesticity. Eleanor, getting to grips with a new baby, talks nappies and breastmilk, school runs and birthday parties, but it transpires that even the school run can be used to engender fear and provoke madness.
Similarly, childfree singleton Bea presents a carefree facade to the outside world as she jokes about dating and her career, but an incident in her past has been keeping her hostage, and now someone is determined to remind her of it, using familiar tools as potent weapons.
'Obsession. It starts slowly, like a train pulling out of a station.'
Alongside the third person narration and therapy snippets, Blackhurst introduces an unnamed first person narrator. These short chapters introduce an extra frisson of tension as the obsessive protagonist reveals the extent of their disordered mind and implies the lengths they will go to. Just like the therapy snippets, I felt compelled to reread these after completing the story and they were even more fascinating in light of the story's conclusion.
There are some ambiguities around the ending (to the extent that I'm not completely clear about whether one character lives or dies!) but I loved the direction Blackhurst takes her characters in and felt that everything ultimately made sense from a psychological and a practical perspective.
Final thoughts
This is a cleverly developed tale of obsession and manipulation, crafted in a way that ensures you always have your doubts but can't be certain until the dramatic finale.
There are a few minor niggles (why does the denouement take place where it does? The setting holds significant meaning for one of the characters…but not for the one who drove there) but overall this is an assured handling of a complex narrative with fully realised and flawed characters.
Being a realist, I also appreciated the harshness of some of the realities uncovered in the final few chapters. Life can be brutal, and death is no respecter of misunderstandings.
I thoroughly enjoyed reading 'Before I Let You In' and immediately upon finishing it IÂ was inspired to launch a more thorough search for Blackhurst's debut novel, 'How I Lost You' – which I subsequently devoured in three evenings. And now begins the long wait for book three…
Want to know more about Jenny Blackhurst or 'Before I Let You In'? Then why not follow the blog tour? See below for the stops!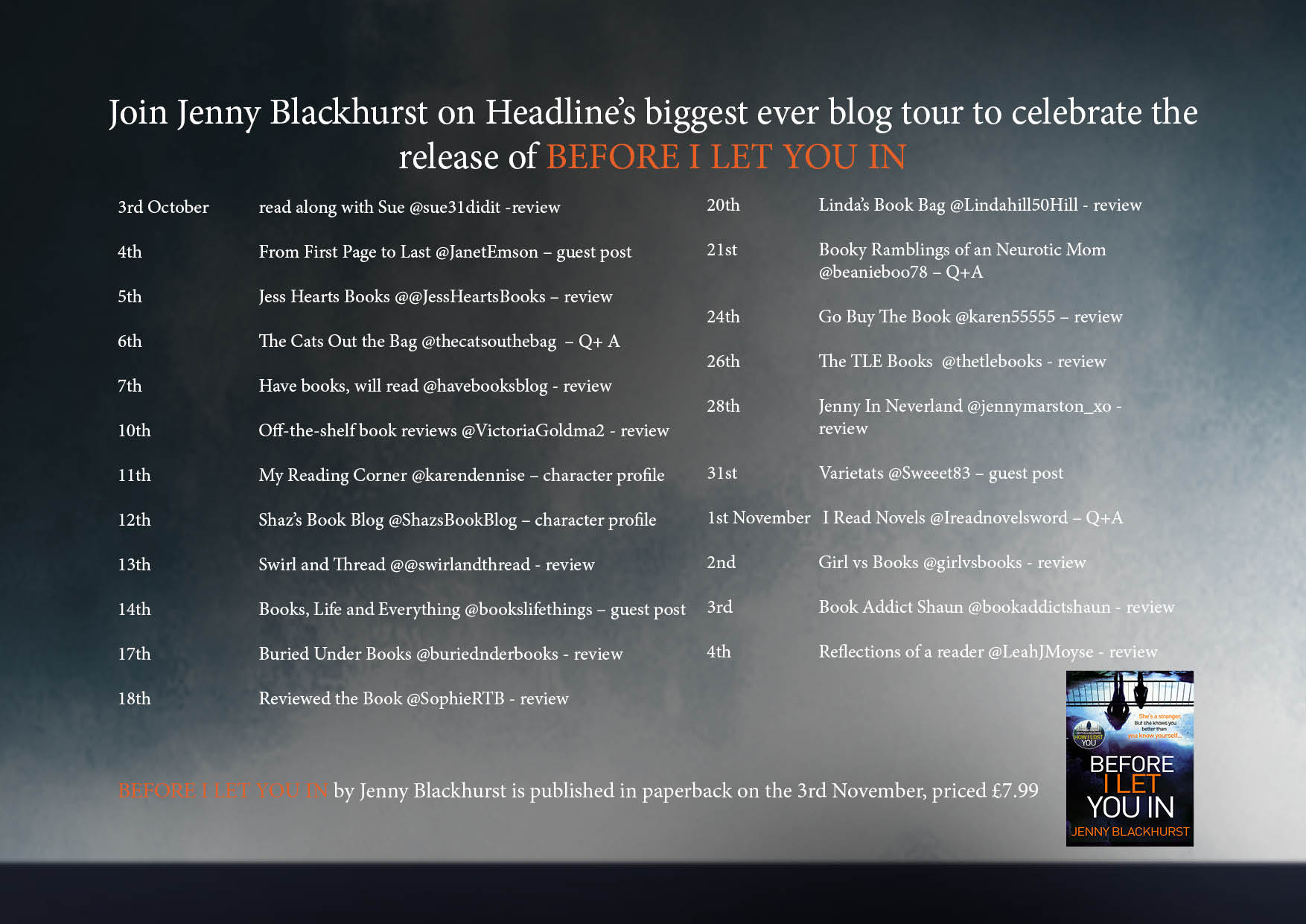 'Before I Let You In',
Jenny Blackhurst,
headline, 2016, paperback
Many thanks to the author and the publishers for providing me with a free copy of this book in exchange for an honest review.