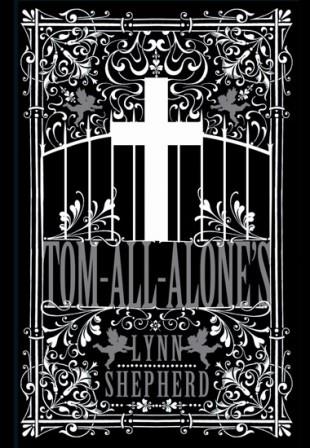 If you like murder mysteries, detective stories and mock Victorian fiction, Lynn Shepherd has a treat for you.
Meet Charles Maddox, an honourable man fighting for truth and justice in a world where money means power and lack of either can be deadly.
What's it about?
London, 1850. Charles Maddox has been forced to leave the newly established police force after daring to criticise a superior officer. In the process of trying to establish himself as a detective he accepts a job from a powerful lawyer to the wealthy and aristocratic: Mr Tulkinghorn. However, what seems to be a simple undertaking gradually becomes more sinister as it becomes apparent that Tulkinghorn and his clients have a secret they'd kill to protect. This plot runs in parallel to the events depicted in Charles Dickens' novel 'Bleak House'
Bleak House 2?
So why play about with a classic? Shepherd wanted to directly address the topics Dickens couldn't: child prostitution, the murder of unwanted babies, and the nature of the filth coating London's streets. She also felt that 'Bleak House' could be seen as the inaugural detective story and wanted to write her own detective story that used elements of Dickens' original story. Shepherd has form in this area: her previously published novel, 'Murder at Mansfield Park', plays a similar trick with Jane Austen's 'Mansfield Park'.
So do I need to read 'Bleak House' to enjoy this?
No. Although if you have read Dickens' book it will allow you to appreciate the literary nods Shepherd makes. Many blurbs claim that 'if you love x you'll love this' but I think in this case such a claim is likely to be true for a large percentage of readers. I thoroughly enjoyed it – after some early doubts.
The Evil Tulkinghorn
Initially I found the links to Dickens' original story entertaining but also a little irritating. Several of the characters were familiar, although some names had been slightly adjusted, but the personalities and situations jarred slightly. For instance, Mr Tulkinghorn is described by the narrator as a man who will not move to act without being paid to do so, but this does not marry up with the Mr Tulkinghorn in 'Bleak House' who appears to act independently in order to preserve his master's high status – and his own ideas of propriety.
If the first few tweaks of Dickens' world do irritate, it is definitely worth reading on.
I was frustrated as it seemed to me that Shepherd was simply getting things 'wrong'. This feeling may have been intensified by the fact that I have not just read the original but studied it as part of my degree. I suspect that other readers may not have to endure the annoyances that I felt in the first hundred pages or so. Regardless, if the first few tweaks of Dickens' world do irritate, it is definitely worth reading on.
As the story progressed and the logic behind such adjustments developed I began to appreciate Shepherd's decisions more. For instance, Tulkinghorn is coldly cruel to Lady Dedlock, a very minor character in this text but a major one in Dickens' original novel. His cruelty to Lady Dedlock, likely to seem excessive to a modern reader who does not live with the weight of Victorian social stratification and expectations, is justified here in an interesting twist that leaves Tulkinghorn heartless but purposeful rather than simply spectacularly cruel. (The Tulkinghorn portrayed here is truly menacing and I cannot read his dialogue without picturing the wonderfully cold Charles Dance from the 2006 BBC serialisation of 'Bleak House'.) I thought the change in Tulkinghorn's motivation managed to simultaneously suit modern concerns and be realistic for a nineteenth century novel – quite an achievement.
Dickens through and through?
From the use of the title (which is one of several titles Dickens considered using for 'Bleak House') and the rather Victorian front cover of this edition to the neatly wrapped up ending reliant on a few coincidences and dubious actions from minor characters, Shepherd invokes Dickens' spirit throughout. There were two occasions when I felt Shepherd was just showing off her research and knowledge of the era, but I found this easily forgivable as it was still really rather rare in the book as a whole.
There's a lot more I want to say about the links between the two texts, so I'm going to save the finer details for another post. The short version is: yes, there's a real Dickensian feel to the whole text.
Final thoughts
I really enjoyed this mock-Victorian detective story and feel it would appeal to quite a wide readership. It's not essential to have read the book Shepherd echoes in order to enjoy this work, but as a fan of 'Bleak House' my knowledge of that book certainly heightened my enjoyment of this one. Characters are interesting and the central mystery is sufficiently engaging to keep the readers' attention. Places are well-described without causing the novel to labour under the weight of descriptive detail.
Highly recommended.
'Tom-All-Alone's'
Lynn Shepherd
Corsair, 2012, hardback