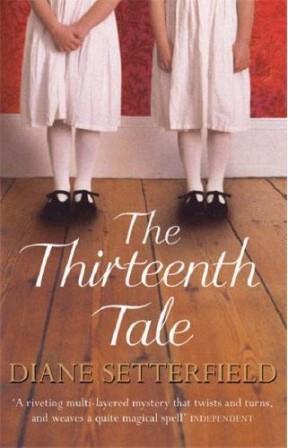 You know a story's good when you start again at the beginning as soon as you've read the ending.
I discovered Diane Setterfield's 'The Thirteenth Tale' at my local Lounge bar book swap one afternoon and was immediately hooked. Why? Look:
'All children mythologise their birth. It is a universal trait. You want to know someone? Heart, mind and soul? Ask him to tell you about when he was born. What you get won't be the truth: it will be a story. And nothing is more telling than a story.'
After that seriously engaging opening I was delighted to realise that this is a story in which books and reading and storytelling and truth are inextricably bound up in the narrative.
This sustained me as the narrative-within-a-narrative moved on to focus on a pair of almost mythically awful characters: violent Charlie and manipulative Isabelle.
What's it about?
Storytelling. Twins. Loneliness.
Extremely successful author Vida Winter is dying. Having spent many years spinning various tales to the hacks sent to get her life story, Vida has finally sent for a biographer to tell the truth about her early life.
Margaret Lea is astounded to be summoned and dubious about Miss Winter's ability to tell the truth, but the secrets of her own birth cause her to become spellbound by the older woman's story, and she finds herself irresistibly drawn to Angelfield House, formerly home to the March family, and Miss Winter.
What secrets are Angelfield and Miss Winter hiding? Margaret is ready to find out.
What's it like?
Quietly compelling. Atmospheric. Occasionally confusing.
Setterfield perfectly conveys Margaret's complete absorption in Miss Winter's story of the very odd twins, Emmeline and Adeline, and encourages our own absorption.
Throughout I wondered: how on earth does the uncontrollable Adeline become the girl seen in the mist? Certain incidents confuse; they make no sense in the context of our knowledge, and it is not until Miss Winter finally reveals the complete truth about the fire at Angelfield that the reader can comprehend a story which initially seems insoluble without recourse to ghosts.
There's a real Victorian / Edwardian feel about this story, though no dates are specified. Governesses, a full domestic staff dwindling to almost nothing, an unworldly heroine and extensive grounds in a decaying house all evoke a time long past. I'm sure this helps to explain why I enjoyed this so much!
Characters are presented in ways that fully reveal them to readers, while they remain oblivious to their true selves. I loved the descriptions of the interactions between the deeply patronising Doctor Maudsley and Hester, the scientifically-minded governess:
'She was quite right, of course. He had no idea what book she had got it out of, but she must have read it closely, for she elaborated on the idea very sensibly.'
And this:
'She had an amusing habit of expressing views of her own with the same measured command as when she was explaining a theory by some authority she had read.'
Setterfield perfectly conveys the inbuilt arrogance and superiority of a medical man dealing with a female he perceives as a subordinate…and the governess's tactful and self-effacing manipulation of this "superior" male!
Typical quotes:
'The separation of twins is no ordinary separation. Imagine surviving an earthquake. When you come to, you find the world unrecognisable. The horizon is in a different place. The sun has changed colour. Nothing remains of the terrain you know. As for you, you are alive. But it's not the same as living.'
'Do you know the feeling when you start reading a new book before the membrane of the last one has had time to close behind you? You leave the previous book with ideas and themes – characters even – caught in the fibres of your clothes, and when you open the new book they are still with you.'
Final thoughts
This is a cleverly constructed tale about the power of story telling and the mystical nature of twinship. I enjoyed reading it, though I was increasingly dubious about the pending solution of the various mystifying elements: I don't believe in ghosts and am not really a fan of ghost stories, so I was worried about the direction this was taking. Suffice it to say, I needn't have been. The final solution makes perfect sense – and reminds us once again that Hester is not infallible!
Full of twists, turns, shocks and, erm, illegitimate children, this is compelling storytelling, including what is, quite possibly, the best doctor's diagnosis and prescription ever.
Recommended.
'The Thirteenth Tale',
Diane Setterfield,
Orion Books, 2007, paperback