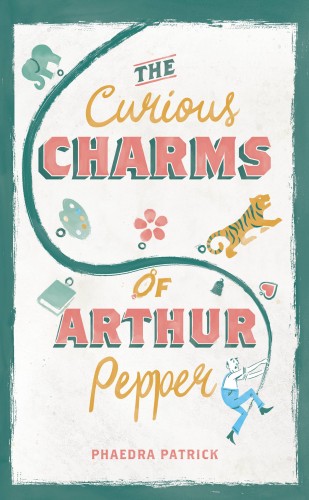 Are you ready to go on an adventure?
69 year old Yorkshireman Arthur Pepper isn't. Since his wife died exactly one year ago, he's clung to his routines and his house plant like life rafts and gradually lost meaningful contact with his children and the outside world. Then a chance discovery awakens a questing spirit he didn't know he possessed – but does he really want to know the secrets he's about to uncover?
What's it about?
After 40 years of marriage, you might expect to know your spouse inside out. (In fact, you might well know them far better than you ever wished to!) But how much do you really know about their life before you?
Arthur Pepper thinks he knew everything about his beloved wife, Miriam, but a clear-out of her wardrobe reveals a charm bracelet he doesn't recall seeing before; the combination of a majestic elephant charm and an impulsive phone call leaves him reeling from the knowledge that Miriam spent time living in India before their marriage. What might the other seven charms be records of? Just who was Miriam? And was she really happy with Arthur? Suddenly, Arthur's idea of 40 years of happy marriage seems precarious. Did he ever really know Miriam at all?
What's it like?
Charming. Thoughtful. Awkwardly paced.
Arthur himself is delightful, even when he's pretending to be a National Trust statue to hide from his over-friendly neighbour, or advising a man that he may not be marriage material. His disconnection from the rest of the world at the beginning of the book is beautifully captured in his thoughts about his neighbour's son:
'Nathan Patterson existed in that he had a body and a head and arms and legs. But Arthur wasn't sure if there were any thoughts inside him making his body operate.'
'Nathan Patterson existed in that he had a body and a head and arms and legs. But Arthur wasn't sure if there were any thoughts inside him making his body operate.'
The joy of the whole book is watching Arthur come slowly back to life and gradually realise that loving his wife doesn't have to mean living to please her. This process moves in fits and starts according to the jolts and successes his adventures give him, which makes the pace feel a little uneven, especially when he determines to go no further in his quest, but when taken as a whole, the narrative perfectly captures the struggle to remember who Miriam was whilst also assimilating who she was before.
Final thoughts
This is a delightful tale of an elderly man discovering that he and the world still have much to offer each other.
The characters met along the way are striking and, as is typical in these kinds of stories, it transpires that Miriam has had a surprisingly rich and varied life pre-Arthur, but it certainly makes for an interesting story.
The ending is touchingly crafted – though I felt including Miriam's voice was redundant and that Arthur was capable of reaching the conclusions he did without it – with plenty of closure and plenty of hints for the future of Arthur's new life.
This is at once a delightful adventure story and a touching meditation on loss, grief and the way our memories are shaped and reshaped by our shifting beliefs.
Recommended.
'The curious charms of Arthur Pepper'
Phaedra Patrick
2016, Harlequin, ARC paperback
Many thanks to the publishers for providing me with a copy of this book in exchange for an honest review.