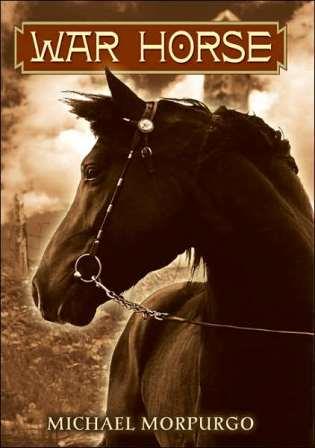 Recently I inherited a Kindle.
This was lovely for two reasons: 1. I needed a kindle after mine was incapacitated by the twin efforts of a small, impatient child and the relentless force that is gravity; 2. My grandfather and I had always shared a love of words, so it seemed appropriate that I should receive some from him on his passing.
Obviously, I accepted this as an opportunity to sneak a peak at what my dearly departed relative had been reading, (which felt strangely more intimate than perusing the books on his shelves; perhaps the encasing technology is what makes the enclosed books seem so private, unlike the books sitting proudly on his bookshelves, spines displaying their contents with an eager openness,) and found myself soon thereafter completely engrossed in Michael Morpurgo's well-known and much lovedĀ children's story, 'War Horse'.
What's it about?
A horse, Joey, experiences life as an army horse during World War One. He changes owner many times, but informs us at the beginning of his story that he has only ever had one true 'master'. By working for both the British and German armies, Joey shows us that despite the inhuman horror of war, soldiers on both sides were capable of kindness and ground down by circumstance.
What's it like?
Evocative. Anthropomorphic. Sentimental.
I loved this story (which is no surprise, considering I also loved Morpurgo's 'Private Peaceful', another story set in World War One), right from the opening pages when I realised, to my slight surprise, that our reflective narrator was a horse:
'My earliest memories are a confusion of hilly fields and dark, damp stables, and rats that scampered along the beams above my head. But I remember well enough the day of the horse sale. The terror of it stayed with me all my life.'
Sold to a man who appears to be a sodden brute, our narrator is christened Joey by the man's teenage son, an innocent who announces that:
'But I tell you Joey, if there is a war I'd want to go. I think I'd make a good soldier, don't you? Look fine in a uniform, wouldn't I? And I've always wanted to march to the beat of a band.'
Of course, when Joey becomes a part of the British Army, we see more destruction and pain than fine men in uniform. Joey's first experience of war is seeing the casualties leaving the battlefields to be repaired as best they can and this is a persistent focus of the storyline.
What's to like?
Oh, so much! The simple storyline which follows Joey's fortunes. The way Morpurgo insists (albeit rather clunkily at first) that Albert's father, the sodden brute of the opening chapter, is a man made weak and unpleasant by circumstance, not choice. The presentation of the German and British soldiers as human beingsĀ in intolerable circumstances. The acute portrayal of gender differences in response to the news of war.
There's no explicit violence or savagery, as suits a children's book, yet the horror of war is powerfully conveyed. It's possible some older readers may find the tone too didactic:
'How can one man kill another and not really know the reason why he does it, except that the other man wears a different colour uniform and speaks a different language?'
I think including explicit reflections like this one from a German soldier helps to make the horror of war clear to younger readers.
Final thoughts
Joey's ultimate fate relies heavily on coincidence and is very sentimental, which may not suit older readers, but this is clearly a children's story and so it didn't frustrate me the way it might have done in an adult or even YA novel.
I thoroughly enjoyed this and read it in one day. I'm now quite excited by the thought of introducing my little ones to Michael Morpurgo's books when they're old enough to enjoy them. I hope they will find 'War Horse' and 'Private Peaceful' compelling and beautiful.
---
I know Morpurgo has written a number of books. What should I try next? Let me know in the comments.
'War Horse',
Michael Morpurgo,
2010, Egmont, ebook