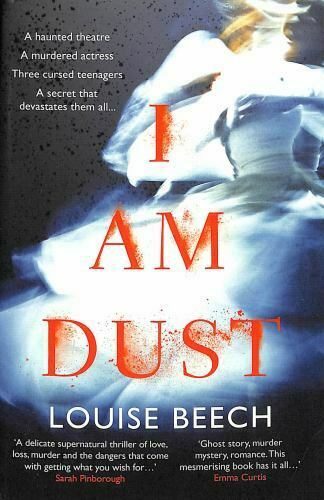 Be careful: you might get what you wished for…
I'm not usually a fan of supernatural tales, but this is a novel by Louise Beech, and it's so beautifully done that I'm entranced.
What's it about?
A haunted theatre. A murdered actress. Three cursed teenagers. A secret that devastates them all…
The Dean Wilson Theatre premiered with the spectacular, haunting musical, Dust. When the actress playing Esme Black is brutally murdered in her dressing room, the show cannot go on, but now, 20 years later, the theatre is reviving the spectacle with a new cast and crew.
Theatre usher Chloe feels uneasy: she loved watching the original musical, but as opening night draws near she's tormented by eerie sights and sounds. Is it possible that the murderer will return? Or is her imagination spooked by the revival of a show that stars a ghost?
Deepening the sense of history repeating itself, Chloe is drawn back into the orbit of new star 'Ginger', who used to be Jess. Twenty years ago, Chloe, Jess and Ryan used to play dangerous games; only now are the consequences becoming clear.
What's it like?
Enthralling. Touching. Tragic.
Chloe shines, as a teenager and as an adult, despite her persistent failure to believe in herself. I wanted to hug her – and shake her fiercely. Old habits die hard and it's obvious Chloe's relationship with Jess is doomed, but the exact trajectory of their relationship is unpredictable and shocking.
The narrative moves back and forth between 2019, in which Dust is revived in an atmosphere of great anticipation, and 2005, when Chloe attended drama school with Jess and Ryan. Gradually, the events of 2005 become clearer, revealing a story of obsession, magic and betrayal.
After a wonderfully atmospheric story, the ending is beautifully handled, offering the possibility of redemption to some of Beech's characters.
Final thoughts
Like Beech's stunning previous novel, 'Call Me Star Girl', this is a story whose emotions will linger with you long after you close the pages. It's hard to let Chloe go; her vulnerability and the intensity of her emotions combine to create a character you really want to succeed – but Beech isn't afraid to follow events through to shocking conclusions.
As already noted, I'm not usually a fan of tales with supernatural elements, but Beech isn't using the supernatural as an easy way to add spooky thrills; 'I am Dust' is all about love, loss, murder and betrayal, with the ghostly elements inextricably bound up in the desires, weaknesses and needs of its main characters. What are they willing to sacrifice to get what they want? And what will happen when they get it? Warning: this book may break your heart.
'I am Dust',
Louise Beech,
2020, Orenda Books, paperback