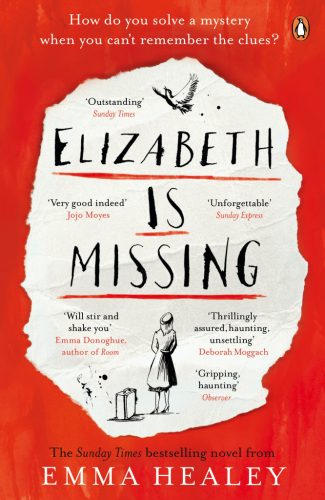 Memory. It is vitally important to our sense of selves, and some of my favourite tales explore how it's loss can affect us.
Christopher Nolan's film, 'Memento' and books including 'The One Memory of Flora Banks', 'How I Lost You', 'The Last Thing I Remember', 'The Girl on the Train' and many more create powerful narratives around missing memories and faulty brains. However, whereas most of these stories rely upon memory destroyed or suppressed by accident or incident, in 'Elizabeth is Missing', Healey explores the corruptions caused by dementia and the everyday tragedy of the disconnections this creates. Yes, there's a compelling murder mystery here, but there's also a powerful story about loss: of memory, of oneself, of one's family and faculties.
What's it about?
Maud is forgetful. She has a carer, multiple cups of cold tea scattered across her house, a deeply concerned daughter and a note in her pocket which tells her that Elizabeth is Missing.
Despite everyone else's stubborn rejection of her concerns, Maud is determined to find out where Elizabeth is, and as she shifts through her memories, the answer to an unsolved seventy-year-old mystery comes tantalisingly close.
What's it like?
Poignant. Darkly comic. Beautiful. Tragic.
Maud's inability to follow a conversational thread is deeply saddening but so tenderly depicted that I almost want to change careers and take up a role in a caring profession – nurse, carer, hospice employee – to try to help others like her. She reminds me of my grandmother-in-law: once the centre of a loving family; still the centre of a loving family, but no longer reliably aware of who any of the younger branches are. Healey depicts the fragmentation of Maud's mind as a process that accelerates, unpredictably ebbs and flows, and, hauntingly, can never be healed.
Her attempts to investigate her friend Elizabeth's disappearance interweave with her memories of a much earlier period in her life. Gradually, as these earlier memories coalesce to form an unavoidable conclusion, the reader may briefly wonder how she avoided reaching the same conclusion in her youth, but is most horribly struck by the haunting reality that, for Maud, Elizabeth will always be missing.
Final thoughts
This is a beautiful, tender story that happens to involve a decades old crime. Maud's disintegration is, frankly, terrifying, and a reminder to us all to take the very best care of our more senior citizens. We may never fully comprehend what they are battling with in their minds.
Emma Healey has done a superb job of illuminating the terror that is dementia in a wonderfully touching tale. This will lurk in your memory long after it has faded from Maud's.
'Elizabeth is Missing',
Emma Healey,
2014, Penguin Randomhouse, paperback