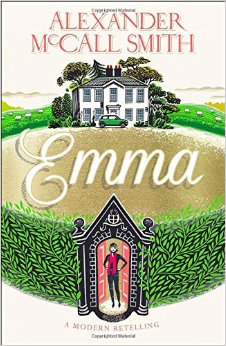 So. Why retell Austen at all?
Having read and reviewed Joanna Trollope's 'Sense and Sensibility'  (mildly amusing but ultimately unconvincing) and Val McDermid's 'Northanger Abbey'  (much more entertaining but still a little daft in places), I'm fast reaching the conclusion that it's purely in order to shift a few books with minimum effort by appealing to Austen and chicklit fans Рand fans of the modern authors, of course. These books will sell, no matter what reviewers say, because Austen sells. End of.
To revisit a time when I had less cynical opinions, you can read my original thoughts on the Austen Project (reworking Austen's six major novels by modern authors to provide more modern stories) here and here.
What's it about?
A spoiled, rich young girl (aged upwards a few years by McCall Smith to enable her to have wasted a few years at university), who has so far grown up under the benevolent tolerance of her widower father and sensible governess, attempts to make her influence felt on her immediate community. This largely consists of unsuccessful matchmaking and spreading malicious rumours while remaining oblivious to the realities of her environment and other people's feelings. Gradually, she 'learns' from her 'mistakes' and there's a (rather unsupported) suggestion that she will be become a nicer person from now on.
How does it compare to the original?
Before writing 'Emma', Austen promised that, "I am going to take a heroine whom no-one but myself will much like". Her Emma is 'handsome, clever, and rich' but also horribly spoiled. Despite this, the novel which contains her has been widely liked, and many readers have enjoyed travelling with this fallible young girl, who makes mistakes and nearly loses her friends as a result, but vows to change her ways. Basically, she grows up a bit. McCall Smith's Emma is different; she is still 'pretty, clever and rich'*, still horribly spoiled and still mistakenly match-making her friends, but she is far less likeable and there's no truly convincing epiphany.
Austen's Emma grew up in an environment where she was incredibly sheltered and wasn't expected to do anything other than marry well (which she actually rebelled against, refusing to contemplate marriage until she fell in love because she recognised that she could be an independently wealthy woman); McCall Smith's Emma is given a governess in an attempt to create a similarly sheltered upbringing, but this simply isn't possible in the twenty-first century setting, and her complete lack of ambition and callous computation of people's financial worth is revolting. I found this Emma's snobbery unbelievable, though perhaps this is just because I've never met anyone who openly admits to thinking the way she does!
How does it work as a modern novel?
For the first few chapters, Emma is noticeably absent. Instead, McCall Smith enjoys outlining her father, Mr Woodhouse's, history, explaining how he developed into a germ-fearing, danger-obsessed recluse. This is entertaining stuff and as an updating of Mr Woodhouse's character, it's perfect, but it makes me wish I'd read a different book – an Emma prequel rather than an 'update'. Miss Taylor's history is also lingered over lovingly, perhaps to ensure the reader accepts the rather odd notion of a supposedly modern young woman being brought up by a governess.
This introductory material is fun to read but it takes up such a large chunk of the book that the actual story of Emma is quite abridged, making it rather unconvincing. George Knightley isn't introduced until halfway through chapter four and although McCall Smith finds time to incorporate the requisite tellings-off ('That was badly done, Emma. Badly done.'), the idea of a romance blossoming between himself and the heroine is implausible – though not as implausible as the blink-and-you'll-miss-it Weston-Taylor romance or the notion of Frank Churchill being given away to family members who subsequently move to Australia.
Chicklit in a regency straightjacket
Arguably, the constraints of using the original plot are forcing McCall Smith into untenable corners, and the best he can do is try to justify his characters' actions with narrative tweaks. For instance, Mr Weston sees a psychologist to help him alleviate the guilt he feels for having abandoned his son and is assured that he did the right thing for his child…but even this falls flat with modern readers who would typically value the parent-child bond above the financial security offered by a vineyard in Australia.
McCall Smith's Emma actively dislikes and internally mocks her plaything from very early on.
Then there's the relationship between Emma and Harriet. Austen's Emma treats Harriet like a plaything (yes, yes, I know I'm comparing again!) but at least seems to enjoy spending time with her. This, in fact, is part of the problem in Austen's novel: her Emma values the unquestioning respect that wouldn't necessarily be on offer from her social equals. In contrast, McCall Smith's Emma actively dislikes and internally mocks her plaything from very early on, while manipulating her in ways that aren't believable given the length of their acquaintance. Yes, (this) Harriet is very thick, and Emma has more money than her, but I still find it hard to believe in her capitulation to some of Emma's more outrageous demands.
Final thoughts
I've never read anything by McCall Smith before and reading 'Emma' hasn't tempted me to change that. There's a lightness of style I can well imagine readers enjoying, but I missed the depth of Austen's original and found this Emma's superficial nature quite abhorrent. I think what troubles me is that she had the capacity to be better. Austen's Emma lived in a very small world; McCall Smith's Emma has so many options available to her, but she invests her time in throwing dinner parties which, as one of her underlings snidely notes, she doesn't actually organise (unless you count deciding where everyone will sit as a valuable contribution). Her one attempt at interior decorating is laughable and there is simply no point at which she truly evolves.
And therein lies the problem. Heroines don't have to be likeable. Indeed, the most interesting protagonists are often deeply flawed. But Austen's work was always moral in tone and when her heroines realise the error of their ways, they repent and their characters change. This is the whole point of Austen's 'Emma'. McCall Smith claims the same process has occurred: 'It had been an important summer for Emma, as it had been the summer during which moral insight came to her Рsomething that may happen to all of us, if it happens at all, at very different stages of our lives.' Furthermore, 'She realised that happiness is something that springs from the generous treatment of others, and that until one makes that connection, happiness may prove elusive'.
And yet Emma's last spoken words (before the narrative informs us of the completeness of her revelations) are a supposedly witty jest at another couple's expense. If Emma hasn't really changed, what was the point of this novel? To take Austen's characters and Austen's plot without truly transposing Austen's purpose has given us a novel populated with mildly humorous moments but ultimately lacking in substance.
If you enjoy chicklit or McCall Smith's style then you'll likely enjoy this story with its narrative quirks and little plot twists.
As for me, I'm planning to reread Austen's 'Emma' and contemplating whether or not to try Curtis Sittenfeld's 'Eligible' (which updates Austen's 'Pride and Prejudice').
'Emma',
Alexander McCall Smith,
The Borough Press, 2015, paperback
The Austen Project – links
* This minor change is quite irritating in itself, actually. Why can't a young woman be 'handsome' in today's world? 'Handsome' is a word with connotations of strength and distinction; by contrast, calling someone 'pretty' has more simplistic overtones of girlish cuteness and empty-headedness. But then again, this is a perfect introduction to McCall Smith's Emma, who is distinctly empty-headed.