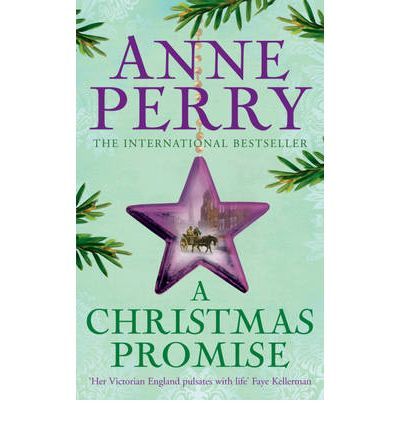 As the autumn chill deepens and Christmas approaches, it's lovely to snuggle up with a hot drink and read books with a chilly setting.
This is the first Anne Perry book I've tried, but I understand that 'A Christmas Promise' is the seventh in a series of Christmas themed novellas penned by the author, all of which apparently feature characters from her other two bestselling series. I love the idea of developing a backstory for minor characters from other works, but obviously can't comment on how convincingly this has been done! It does partly explain why our lead investigator in this increasingly dark crime mystery is a 13 year old girl…
What's it about?
December 1883. When Gracie Phipps stumbles upon a rather distressed 8-year-old Minnie Maude Mudway, she thinks the younger girl must be a bit daft, searching for a missing donkey called Charlie in the freezing slums of East London. However, after chatting to the younger girl, Gracie realises that Minnie's Uncle Alf, who died the preceding day, may have been a victim of malicious intent; rather than scaring her off the case, Gracie secures the help of a local shopkeeper, Mr Balthasar, to uncover the truth and reunite Charlie with his young mistress.
Can they discover the truth before anyone else gets hurt?
What's it like?
A mostly enjoyable mixture of dark and twee.
I enjoyed the simple evocation of the London slums: dark, mean streets, chatty chestnut sellers and rag-and-bone men abound.
The story itself shifts from a missing donkey to a possible murder and this is the point at which I began to question Gracie's involvement. She isn't quite street savvy enough to be looking into the murky depths of London's criminal fraternity, and nor is Minnie Maude. Mr Balthasar begins to take over, but the search for 'the Toff' is still couched in such childish terms that this feels like a story for children, rather than adults.
Perry does give her young girls East London accents, so expect lots of 'e, 'er and wot in the dialogue. This is great for fans of authenticity but there's a lot of dialogue and the repetition may become irritating for some readers.
The actual resolution of the crime is quite good and in keeping with the era, but the final ending of the book is far too saccharine for a novella which began steeped in the mire.
Final thoughts
I quite enjoyed reading this. It's a simple story and doesn't demand a lot from the reader; I'd be tempted to try another when I'm in the mood for something quick and easy to read. I do prefer realistic (depressing!) endings, but in the name of Christmas I'm sure I can tolerate a bit more wish fulfilment.
'A Christmas Promise',
Anne Perry,
2009, Headline, hardback