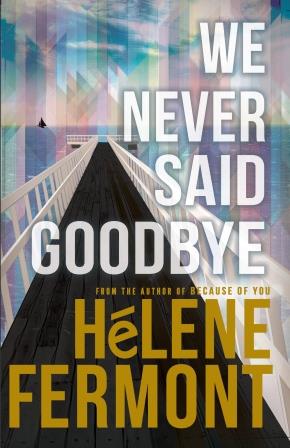 Scandinavian fiction: if it isn't dominating our TV screens it's creeping onto our bookshelves.
Whether or not you're a fan of the trend, it's often appealing to read novels set abroad and learn a little about another culture – and sometimes, a surprising amount about our own! Hélene Fermont's second novel, We Never Said Goodbye, is set in Sweden and England and explores the trauma caused by the break-up of a long-term serious relationship – among other things.
Here's the blurb:
---
When Louise is dumped by Mike on their twentieth wedding anniversary, she faces the daunting task of picking up the pieces of her life. She can either choose to persevere in her adopted hometown of London, bolstered by dear friends and the fashion business she loves, or return to her native Sweden alone. Can she find happiness with an old flame in a city she avoided for two decades? Or will her ex's violent, criminal past haunt her forever?
As Mike becomes increasingly unhinged, the choices Louise makes could prove fatal. Will she ever be able to say goodbye to the past and start afresh?
Full of suspense and drama, We Never Said Goodbye explores the secrets and scandals we hide from loved ones, the enduring scars of abuse and the exhilarating feeling of falling in love again after heartbreak. With a dark and tangled 'Scandi' mood, this novel is ideal for fans of drama, romance and Scandi-inspired suspense novels.
---
Sounds intriguing. Today I am privileged to have the author visiting the blog to discuss what, exactly, makes Scandinavian writing different. So, over to Hélene: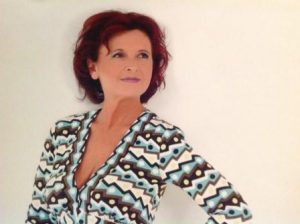 My name's Hélene and I write psychological contemporary women's fiction. I write from the heart and like my fellow Scandi authors have a distinct writing style that's direct, at times bordering on blunt! I focus on characterisations and situations that are genuine, emotive and relatable.
Unlike the popular Nordic Noir Crime novels and TV dramatizations, my focus is on the characters.
It's not so much about whodunnit but rather on what makes people act in a certain way and how background impacts on daily events and interaction with other people.
Scandinavian authors are particularly good at writing about subjects that don't always make for easy reading and as soon as people get a taste for it they usually come back for more as it's extremely addictive. Characters are what matter the most and are central to the works of Scandinavian authors – with morally complex elements and three dimensional characterisations. They are less focused on the outcome of the story than on the individual characters' journey throughout the novel to give an honest description of society and how it affects and shapes people.
I'm Anglo-Swedish and divide my time between London and Malmö where I was born and brought up bilingual. I've worked as teacher and therapist for many years and specialise in young people with learning difficulties, mental and physical disabilities. Through my work I've encountered many wonderful and amazing people who inspire me in numerous ways.
I write about fictitious characters whose lives are transformed by events that are out of their control and how their actions affect others crossing their path.
Just like my debut novel, Because of You, We Never Said Goodbye deals with subjects that are heartfelt and thought provoking. The novel spans two years across two countries, following the paths of several protagonists whose lives are about to change irrevocably.
We Never Said Goodbye is written with compassion and psychological insight. The novel deals with reclamation of lost identities in the face of tragedy and subjects explored include bereavement, sexual abuse, addiction and orientation, racial tension, domestic violence, alcoholism and divorce.
I hope you will enjoy my novel and thank you for taking the time to engage with it.
---
So there you are. Many thanks to Hélene for taking the time to visit BuriedUnderBooks and share her thoughts.
If you would like to sample her writing you can find Because of You in all the usual places, and from 6th April you'll be able to get your hands on We Never Said Goodbye, too.
Want to know more? Why not follow the tour: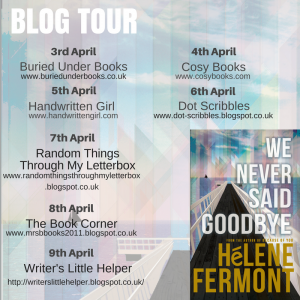 We Never Said Goodbye by Heléne Fermont is out 6th April (Fridhem Publishing, £9.99)
Many thanks to the author and the publishers for providing me with an advance copy of this book in exchange for a place on the blog tour.