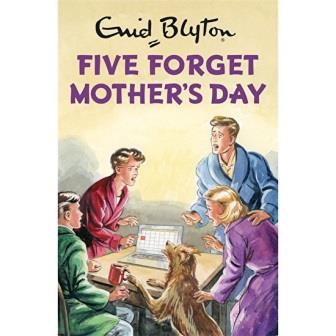 Sometimes giving books the benefit of the doubt is a Good Thing.
Having been underwhelmed by 'Five Go Parenting' and 'Five on Brexit Island' I was pleasantly surprised to enjoy the latest instalment in Bruno Vincent's 'Enid Blyton for Adults' series: 'Five Forget Mother's Day'.
What's it about?
George has, somehow, managed to fail to give her mother, Aunt Fanny, a present for the last few important occasions in her life, despite – or perhaps because of – her cousins' helping her to find the perfect gift.
Now Mother's Day is approaching and George is determined to make amends by treating her mother to a very special Mother's Day gift. Just as long as she doesn't have to actually be in the same room as her mother or anything drastic like that; that would only cause arguments.
It can't possibly all go wrong again – can it? But when Aunt Fanny unexpectedly comes to stay with the Formerly Famous Five in their London flat, there's tension aplenty and things take A Turn for the Worse.
Can George make amends? Is Fanny really a complete bitch? What was Julian like as a baby? It's the famous five all grown up – well, OK, maybe not grown up, but grown old enough to drink and swear and hold down jobs where they are avoided by their co-workers – but they're as full of Clever Plans as ever.
What's it like?
Quite a pleasant short read. There's a proper storyline (George's desire to make amends to her mother and her mother's ability to irritate all of the five beyond sense) which is almost completely plausible (WHY when they fail to buy their first gift in a timely manner don't they just buy it anyway and send it a day late?) with a proper ending.
The five are all perfectly captured as adults with their young selves from Enid Blyton's originals shining through these slightly more modern incarnations. Dick is genial and good-looking but thick; Anne soft, beautiful and sensible; George brusque to the point of rudeness; and Julian is an arrogant drunk who seems unaware of his massive drink problem – according to Aunt Fanny, anyway.
I really quite enjoyed this outing and problem-solving by the five. The agonies of family politics are well-realised!
Final thoughts
This is the best in the series yet, or at least, in my opinion, the best out of the three I've read so far. (I found the plots of the other two I read too implausible.)
Vincent adds just enough substance to the plot and humour to the narrative to make this a pleasant short read.
This is obviously designed to appeal to fans of the original books. This time, they won't be disappointed.
'Five Forget Mother's Day',
Bruno Vincent,
2017, Quercus, hardback