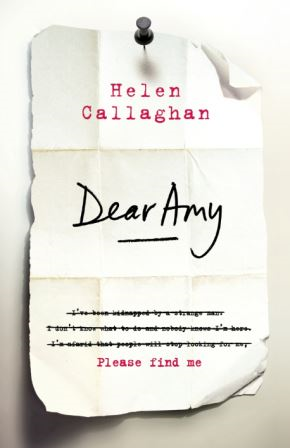 I loved the premise of this book.
Missing schoolgirl Bethan Avery suddenly seems to be writing letters to an agony aunt asking to be rescued, but Bethan went missing nearly twenty years ago and is presumed dead, so this must be a hoax, surely? The police dismiss the letters as a cruel joke, but when they reach the attention of a criminologist who's conversant with the case, he reveals the letters contain information that was never released to the public… Is Bethan alive? If so, where is she? Why don't her letters simply reveal her whereabouts?
What's it about?
Agony aunt Margot Lewis is determined to find out what has happened to Bethan and also to Katie Browne, a schoolgirl Margot was teaching who has disappeared in circumstances that she finds eerily reminiscent of Bethan's history. As Margot researches Bethan's case, she begins to realise that finding out the truth will demand more of her than she ever imagined.
What's it like?
Initially gripping. A little unrealistic. A touch too violent for my liking. The story opens with Katie's abduction, the development of which gives a very accurate flavour of the rest of the book. It's chilling, certainly, but perhaps a tad heavy in words and details that could have been edited away without losing the story's thread. Then we meet Margot, and it quickly becomes clear that she has secrets to hide from a murky past, including significant mental health issues. Not enough baggage for one character? She's also going through a messy divorce.
Margot can be a difficult character to engage with. She's spiky, paranoid and the very definition of an unreliable narrator, but she's also determined and nothing will stop her finding Katie and Bethan. The attraction she feels towards the criminologist helping her is a little unsettling and the moments she finds herself admiring his muscles rather than concentrating on his information feel a little out of character for someone so anxious about the world, but this is (sadly) quite standard fare for this kind of fiction. (Of course a woman, especially a vulnerable one, and a man, especially a clever one, can't work together without fancying each other. *sigh*)
The twists and turns in the story are fascinating and were definitely gripping; I lost count of how many times I thought 'I'll just read to the end of this chapter…Oooh, ok, just one more chapter…' I liked most of the developments and thought that, in retrospect, they were understandable without being predictable. I didn't mind the use of coincidence as the quite specific local settings made the coincidences plausible (though once Margot began to piece together the truth I was quite frustrated that she still didn't make a particularly likely connection involving a house). What I wasn't so keen on was the explicit violence towards the end, though I understood the purpose behind showing it, I felt it was a little cartoonish and drew me out of the storyline. There's a good amount of closure at the end.
Final thoughts
This is a gripping psychological thriller featuring a seriously unreliable narrator and I mostly enjoyed it. I found some of the time transitions weren't signalled clearly enough by the paragraphing, but it may be that this is the result of reading a proof copy. I think the book might have benefitted from a few more cuts. Once we realise a few key facts, the whole story of Bethan's kidnapping is revealed in detail, but this didn't add anything to my understanding of the killer, the victim or the case. In fact, a lengthier outing for the villain mostly made me wonder how someone so clearly deranged had escaped capture for so long!
Worth a read for the gripping pace and the chill factor but this is not a killer who'll be haunting your mind after you close the pages.
'Dear Amy',
Helen Callaghan,
Michael Joseph, 2016, ebook ARC
Many thanks to NetGalley and the publishers for providing me with a free copy of this book in exchange for an honest review.