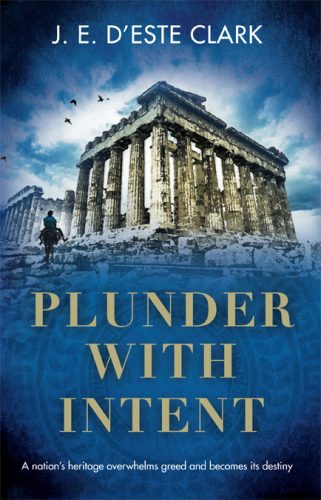 The Parthenon Marbles are a controversial subject.
In her new novel, Joanna D'Este Clark aims to take the debate out of the political arena and into readers' hearts, with the ultimate desire of inspiring readers to argue for the restoration of the marbles to Greece.
What's it about?
In 'Plunder with Intent'…
In 5th century BC Athens, a sculptor toils to create a masterpiece in marble, expecting it to live in the Parthenon forever.
In 19th century AD Athens, Lord Quimby strips the Parthenon of its wealth and ships the treasures off to England.
In the present day a young Cambridge student Max seeks to 'right the wrongs' of the past'.
In real life…
The Parthenon Marbles are a collection of Classical Greek marble sculptures that were bought to London for exhibition in the early 19th century in the British Museum. Ever since the early 1830s, Greek governments have been arguing for their return and the debate is ongoing today.
Who's it by?
Joanna D'Este Clark studied architecture and history of art at a Canadian university. For the last ten years she has been a strong supporter of the British Committee for the Reunification of the Parthenon Marbles to Greece. She lives in London but would like to spend more time in Greece.
What am I offering?
One paperback copy of Joanna D'Este Clark's 'Plunder with Intent', sent to you by the lovely folks at Midas PR.
How can you get your hands on it?
Enter here:
Giveaway rules:
Competition runs from 11/11/2017 – 19/11/2017 and is open to UK participants over the age of 18 only. The winner will be chosen by Rafflecopter and will be given five working days to respond to a notification about their prize; in the unlikely event that they do not respond, another winner will be selected, using the same method, from entries already collected. And so on.
Plunder with Intent by Joanna D'Este Clark, was published on 9th November (paperback, £20, Ember). Not a competition winner? You can order the book here.
Want to know more? Then why not visit the other stops on the tour?