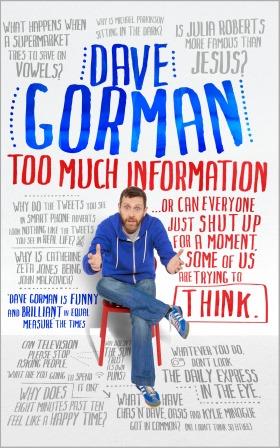 Recently I was lucky enough to see Dave Gorman live at my local theatre.
His current tour, 'Dave Gorman gets straight to the point…the PowerPoint', is a treat for anyone who enjoys chasing down oddities to their logically absurd conclusions, and I thoroughly enjoyed the show. Afterwards he was selling and signing some of his books, so obviously I had to buy one.
What's it about?
Loosely, the idea suggested by the title: there is just too much noise and stuff masquerading as information and intruding into our lives. This false or unnecessary information emanates largely from the Internet, though TV and newspapers have more than their fair share of irritations too, and we are often or even mostly overwhelmed by this flood of stuff and so stop exercising sensible judgement about its value.
Really it's just an excuse for Gorman to do his thing: to critique absurdity in order to make people laugh.
What's it like?
Appropriately, this feels like a book that could only exist in a world saturated by social media and sound bites. (I mean, obviously that's true because of the subject matter, but bear with me!) Gorman's chapters read like blog posts, anecdotal investigations of various oddities that just happen to have caught his attention. If I share a few of the chapter titles it should give you a good sense of his foci:
If It Isn't One of Your Greatest Hits Don't Put It on a Greatest Hits Album.
'Music From & Inspired by the Motion Picture' Can Sod Off Too
What's the Point of a Link If It Isn't Actually Linked?
There's No Need to Invent a New Word for Something Just Because It Happened on Twitter
In keeping with this slightly haphazard focus, chapters range in length from several pages to a mere page, depending on whether the complaint in question is deemed worthy of further investigation or is simply being flagged up as a ridiculous situation. This makes it a great book to dip in and out of quickly – perhaps during those moments you might normally devote to Twitter or Facebook?
Don't read this critique of modern life looking for solutions, as Gorman concludes that 'Can we do anything about it? Probably not.' And fair enough. This is a lazy Sunday afternoon book, not a life-changing creed.
Final thoughts
If you enjoy Dave Gorman's brand of comedy, or share his irritation with the illogicalities of much of the modern world, then it's likely you'll enjoy this. Really, I think most people would be hard-pressed to disagree with him when he suggests that it's a bit odd for the word 'women' in a random article to link to Dyson hoovers, or for the word 'dinner' in another article to link to denture adhesive.
On Amazon's Search Inside this book feature: "If you search for a badger glove puppet on Amazon, one of the things it's going to try and tempt you with is a book that I wrote about an American Road Trip…Is that a useful thing to show someone who's searched for 'badger glove puppet'? I don't think so."
In fact, it's probably worth reading the whole book just to reach the chapter where Gorman explores The Daily Mail's slightly shaky concept of 'matching' in relation to celebs and fashion. In it he points out that not only is this a cynical ploy designed to grab the reader's attention by pretending there's some sort of actual story happening, but it's also a diversionary tactic to stop readers' considering how truly creepy such 'stories' really are (since fundamentally they are all really 'Man Stalks Woman and Takes Pictures of Her With Her Child / Lover'). I defy anyone to read that chapter without agreeing that, yes, such 'stories' are odd, and a definite case of TMI…or perhaps of nothingness posing as Information.
Ultimately, this book neatly affirms the spirit behind its epigraph: 'There are many things of which a wise man might wish to be ignorant'.
'Too Much Information'
Dave Gorman
Ebury Press, 2014, paperback
Epigraph credited to Ralph Waldorf Emerson