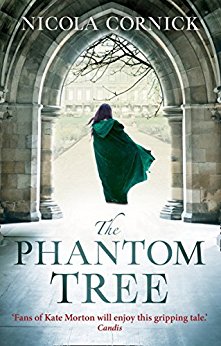 'She saw the portrait quite by chance, or so she thought.'
Openings can be crucial in capturing a reader's attention, especially if the reader in question is choosing what to read next from a wobbling stack of ARCs! The sly mystery, the sense of fate, lurking in this ambiguous opening statement intrigued me and I was several chapters in before I next paused to consider where I was.
This is the opening to 'The Phantom Tree', historian Nicola Cornick's second novel. I read and thoroughly enjoyed her debut novel, 'House of Shadows' in 2015, and I was excited to get reading.
What's it about?
When Alison Bannister finds a portrait that supposedly features Anne Boleyn, she recognises the woman as Mary Seymour, Katherine Parr's unwanted daughter, who was taken to Wolf Hall in 1557 and presumed dead after going missing as a child.
Alison is determined to unlock any clues the painting may hold as she believes the painting will reveal what happened to Mary – and what happened to Alison's own son.
Soon the reader is moving between time frames in a quest to find out what happened to Mary Seymour and what will happen to Alison.
What's it like?
Intriguing. Well-written and well-paced. Fantastical in scope but realistic in detail. When we first witness Mary and Alison's interactions as teenagers their behaviour and attitudes towards each other are utterly convincing and I like that, while their hatred softens over time, they are too different to ever like each other.
Mary is a slightly frustrating character; she remains incredibly naive throughout the book and is arguably responsible for her fate. Alison is more interesting and her desire to find Mary infuses the story with a sense of urgency. There's a romantic relationship which develops, of course, but the real intrigue here lies in the past. Whatever happened to Mary? Can Alison find out?
It would have been nice to see Alison coming to grips with the modern world, but this isn't that story, and it's the past that consumes her. After much discussion of clues, she thinks she may have the answer, but can she prove it? And can solving the mystery give her what she really wants?
Final thoughts
A really enjoyable storyline with goodies, baddies, time travel and a final, agreeable sense of resolution. The time travel is inexplicable and there's an odd telepathic romance which I couldn't see the point of except to heighten the sense of the fantastical, but the storyline itself is interesting and well-paced. If you're happy to accept the flitting about in time then this is a good read and provides us with one theory for what happened to Mary Seymour!
As for me, I'm already looking forward to reading Nicola Cornick's next book.
'The Phantom Tree',
Nicola Cornick,
2017, HQ, paperback ARC
Many thanks to the publishers for providing me with a free copy of the book in exchange for an honest review.