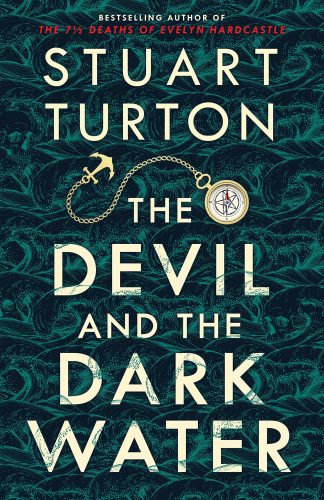 'A glorious mash-up of William Golding and Arthur Conan Doyle' – Val McDermid.
The quote above is all you need to know, but if you'd like to learn more about Stu Turton's latest genre-defying escapade of a book, then keep reading.
What's it about?
A murder on the high seas. A detective duo. A demon who may or may not exist.
It's 1634 and Samuel Pipps, the world's greatest detective, is being transported to Amsterdam to be executed for a crime he may, or may not, have committed. Travelling with him is his loyal bodyguard, Arent Hayes, who is determined to prove his friend innocent. Also on board are Sara Wessel, a noblewoman with a secret, and her husband, the governor general of Batavia.
But no sooner are they out to sea than devilry begins to blight the voyage. A twice-dead leper stalks the decks. Strange symbols appear on the sails. Livestock is slaughtered.
And then the passengers hear a terrible voice whispering to them in the darkness, promising them three unholy miracles. First: an impossible pursuit. Second: an impossible theft. Third: an impossible murder.
Could a demon be responsible for their misfortunes?
With Pipps imprisoned, only Arent and Sara can solve a mystery that stretches back into their past and now threatens to sink the ship, killing everybody on board…
What's it like?
Fantastical. Fabulous. Ingenious. Stu Turton, your mind works in truly frightening ways, and I'm grateful.
Welcome to historical fiction where the fiction is the history. 1634 it might be, but Arent Hayes can still proclaim that he's 'fair hungover' but otherwise 'not too bad'. Modern idioms don't bother me here because this is a world in which a demon is the chief suspect behind a murder, but if you're a stickler for period details, this might frustrate you! As Turton explains in his amusing afterword, An apology to history. and boats, 'lots of people want chocolate, not coffee. They want the details I tossed overboard.'
Much like his fantastic debut novel, 'The Seven Deaths of Evelyn Hardcastle', there's a murder (eventually!) in a closed environment with a diverse and intriguing pool of suspects, any one of whom we could easily credit with a motive, if the murder itself weren't completely impossible… In another echo of 'Seven Deaths', the ending of 'Devil' may also prove divisive. It surprised me…I'm still not sure I liked it, but I enjoyed the rest of the book so much that I didn't mind.
Final thoughts
This is a wonderfully atmospheric tale, from the harried procession towards the ship, to the chaos of the terrible storm, to prowling and scouring the lower decks of the Saardam, but there's more to this book than moods. Arent Hayes worships Sammy Phipps and struggles to comprehend the change in his uncle's personality. Turton exposes people's cruel natures while teasing us with the possibility of a demon. Hayes and Wessel will ultimately have to discover some unpalatable truths, about themselves, their families and their friends. After all, the devil lives in the dark water.
'The Devil and the Dark Water',
Stuart Turton,
2020, Raven Books, hardback