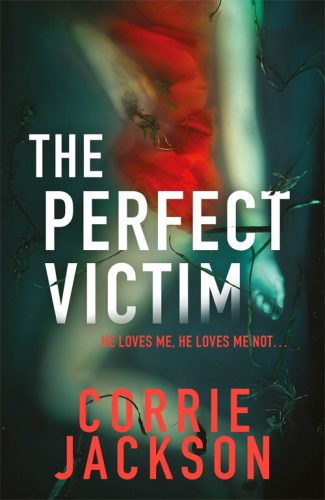 I LOVE this book.
This is a grower. I thoroughly enjoyed 'The Perfect Victim' while I was reading it, but it's only when you reach the explosive finale that you can fully appreciate just how cleverly Corrie Jackson has pulled this story together. As soon as I finished it I was desperate to discuss it: did you see that coming? No? But isn't it beautifully done? YES.
What's it about?
I'm going to cheat and steal the blurb as it's quite comprehensive:
Husband, friend, colleague . . . killer?
Charlie and Emily Swift are the Instagram-perfect couple: gorgeous, successful and in love. But then Charlie is named as the prime suspect in a gruesome murder and Emily's world falls apart.
Desperate for answers, she turns to Charlie's troubled best friend, London Herald journalist, Sophie Kent. Sophie knows police have the wrong man – she trusts Charlie with her life.
Then Charlie flees.
Sophie puts her reputation on the line to clear his name. But as she's drawn deeper into Charlie and Emily's unravelling marriage, she realizes that there is nothing perfect about the Swifts.
As she begins to question Charlie's innocence, something happens that blows the investigation – and their friendship – apart.
Now Sophie isn't just fighting for justice, she's fighting for her life.
What's it like?
Compelling, breath-taking and genuinely tension-inducing, this is a thriller that will keep you awake into the small hours to read 'just one more chapter'.
Jackson controls the pace perfectly, switching between Sophie's first-person investigation and events in Emily's life leading up to the murder her husband is suspected of committing. Sometimes I hadn't realised quite how physically tense I was until I began a fresh chapter and the obliviousness of the characters within to the stunning events of the preceding chapter helped me to relax and breathe again!
Sophie is an interesting narrator. She's reckless, driven to find the truth at all costs, but also consumed by her guilt over her brother's recent death. She makes poor decisions, though in comparison to some of Emily's decisions, Sophie's begin to look almost sane…
What's to like?
The cracking pace, fizzling tension and utterly convincing characters make this a book I struggled to put down. I really liked the way Jackson gradually unravels Charlie and Emily Swift, although I liked the later revelations even more!
Is it completely plausible? Perhaps the final reveals verge on the exceedingly unlikely…but there's a reason this is called fiction, and I never once felt that the implausible had become the impossible. In fact, I thought the whole complex storyline was ultimately chilling in that, horrifyingly, I fully believed all the elements, while dramatic, were possible.
I also loved the focus on up-to-the-second journalism and crime scene reporting, the use of social media and the importance of perception as opposed to reality.
Final thoughts
This is the second book in a series following Sophie Kent, and although, as is often the case, I feel deeply sorry for Sophie, (how much more trauma can the poor woman be expected to withstand? Dead brothers, potentially murderous friends and awful family, she's plenty on her plate before Jackson considers throwing in a romantic entanglement,) I was able to read this as a standalone book without (a) feeling like I was missing vital information or (b) being pressured by withheld information to read the next instalment.
Clearly, Sophie's investigation of her brother's death will be ongoing, but it isn't used as a carrot to entice to reader into further purchases. Instead, Corrie relies upon the sheer quality of her story-telling to bring the readers back.
I, for one, am now looking forward to reading 'Breaking Dead' and shall be waiting keenly for Sophie Kent's next outing.
'The Perfect Victim',
Corrie Jackson,
2017, Zaffre, paperback
Many thanks to the publishers for providing me with a free copy of this book and a spot on the blog tour in exchange for an honest review.
Want to know more? Why not follow the tour: