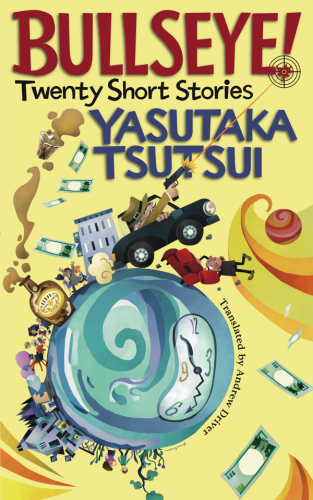 "This isn't a movie. It's a short story."
In fact, it's twenty of them, all written by popular Japanese author, Yasutaka Tsutsui, and selected from a career spanning over fifty years, which he admits is now coming to a close. "The ideas aren't coming anymore," he told Andrew Driver, translator of this rather miscellaneous, but ultimately intriguing, collection.
What's it about?
Technology, sex robots, celebrity, old age, memory, story telling, human nature, life, death. Everything and anything, but particularly death. The title story, Bullseye! establishes Tsutsui's unswerving preoccupation with death early on: 'Sitting at the desk was a brazenfaced young officer, blissfully unaware that he would one day be killed.'
Bullseye! follows the misadventures of an elderly man who steals money, a gun and a police officer's sanity, with various hi-jinks inbetween. It's a rambling, mad adventure, full of gaps and mathematics that result in diarrhea 'when executed properly', but there's something joyous in the old man's quick and easy decision making, ('Now, it goes without saying that a pistol lying on a desk is just asking to be stolen,') his contempt for his fellow men and women, and his final decision about how to use the gun.
This surreal escapade is followed by the more conventionally odd, Call for the Devil! a much shorter tale which focuses on three executives who try to summon up the devil to save their business. As you do. Published 35 years before Bullseye! this is at once wildly different in content and strikingly similar in terms of its surreal events and casual treatment of the darkness in human nature. I really enjoyed the humour in this story; when the men accidentally summon up Jesus Christ they reject him immediately because, 'He's the friend of the poor, isn't he? He'd only end up siding with the union!'
What's it like?
A varied collection of tales which range from the delightfully mad to the forcefully satirical to the strikingly chilling.
What they have in common, besides showcasing Tsutsui's increasing awareness of impending death, is an underlying darkness of vision. Don't expect happy endings, but especially not from the incredibly sinister tale, A Vanishing Dimension, in which a man's wife and child seem to enter another dimension after he purchases a creepy toy monkey for the child, or from the quiet, dreamy tale, Sleepy Summer Afternoon, which still casts a chill over me several weeks after reading it.
My favourites were perhaps the most conventionally constructed narratives. I adored the wickedly simple story, Cross Section, in which a professor of historical geology fails to notice his beautiful wife indulging in a string of lovers until a wonderful reveal forces him to attend. I also loved the twisting of a conventional fairy-tale narrative in The Good Old Days, a story that sees a three generation family forced to converse with each other when their TV is removed. What did people do in the good old days? Why, they told each other stories, of course. But the story the family take it in turns to tell begins to sound disturbingly familiar to the increasingly angry listeners!
Final thoughts
Expect satire, black humour, the abrupt pulling back of the fourth wall ('Time jumped again…I assumed it was some kind of literary omission or a spot of judicious editing,') and quirky stories that may surprise you with a judicious twist and psychological insight.
I always think a short story collection is akin to a mixed bag of sweets. You're unlikely to love them all, and there were a couple here that left me cold: The Wind was a bit too Samuel Beckett for my liking, and I couldn't see the point of Oh! King Lear at all. This wasn't an issue: overall there were plenty of stories I really enjoyed or found interesting, and it's impressive how prescient Tsutsui was in his tales about technology and celebrity worship.
However, I think it worth noting that two of the stories are disturbing. Narcissism and Sadism both focus on a man abusing women and sex robots in violent, sexual ways. Though each tells an effective short story with a sting in the tale, I found them quite uncomfortable reading, peopled with aggressive men who, when told they are hurting the robot and asked tearfully to be gentler, shout, 'I've paid good money precisely to avoid all that bother!'
In conclusion, I found this an enjoyable and interesting collection, and am now planning to read Tsutsui's one other collection published in English to date – 'Salmonella Men on Planet Porno'.
Bullseye!,
written by Yasutaka Tsutsui,
translated by Andrew Driver,
2017, Kurodahan Press, paperback
Many thanks to Motoko Driver for providing me with a copy of the book in exchange for an honest review.