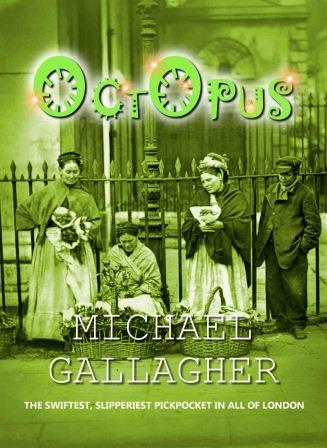 Since then, I have been waiting as patiently as possible for author Michael Gallagher to release the next in the series. Today, it is finally published in full (the first few chapters have been steadily made available over the last few weeks on the author's website), but I've had the advantage of an ARC, so…can 'Octopus' possibly be as entertaining as 'Gooseberry'?
What's it about?
14 year old Octavius Guy is known to his colleagues as 'Gooseberry' (on account of his bulging 'ogles') and by London's criminal fraternity as Octopus (on account of his notorious pickpocketing skills). He's enjoying his role as solicitor Matthew Bruff's newly-appointed Chief Investigator when he's sufficiently lucky to witness a performance of 'The Duchess of Malfi' at Sadler's Wells. Or at least, he's lucky enough to witness two thirds of the perfomance. Then the leading lady dies. Yes, yes, the Duchess is meant to die…but the actress who's playing her isn't.
Gooseberry is especially horrified because he knows Miss Prynn personally. Or at least, he used to, back when she was called Bella and led a life of crime. And of course, he really ought to know all about what she's doing now, as he's currently leader of London's criminal gangs, albeit a reluctant one. Immediately resolving to investigate, Gooseberry dashes into the backstage area, seeking clues and ruffling feathers in his attempts to uncover the truth. After all, even if he wasn't personally motivated, this sure beats tracking down rich old lady's cats.
And if solving a crime without seeking support from England's fledgling police force, or confessing to your employer that London's criminal underclasses are supposed to answer directly to you, doesn't sound tricky enough, a man arrives unannounced in the house Gooseberry shares with his younger brother, Julius, and friend, Bertha, claiming to be Gooseberry's father. But is he? And how can Gooseberry find out?
What's it like?
Immediately engaging. Oddly sweet. Occasionally ludicrous.
Gooseberry's voice is one of the novel's greatest strengths; his candour and enthusiasm are delightful. On the subject of legal matters he notes that it is, 'Best not to ask, I always think…they might try to tell you!'
He continues to try to protect his employer from the realities of life in Victorian England for children, playing along with Mr Bruff's bizarre notion that the cross-dressing (but obviously male)Â  Bertha is Gooseberry and Julius' mother and generally shielding him from things it's best he remains ignorant of, such as the exact nature of the play Gooseberry is so keen to see:
He focused on the fame of the leading actress while, 'purposely skirting around the play's rather bloodthirsty nature; it was bound to offend Mr Bruff's quaint notions of what were and what were not suitable topics for discussion where a fourteen-year-old boy was concerned.'
It is similarly amusing that he feels Webster's play to be short on death and bloodthirstiness. Indeed, he begins to 'despair' at the lack of blood and gore, reflecting that although the Duchess got upset over the purported bodies of her children and husband, Gooseberry feels that, 'as waxworks, they can hardly be included in the final body count, now can they?' This is, to say the least, not a criticism typically levelled at John Webster. At least Gooseberry would approve of this book: Miss Prynn is murdered in the prologue, giving a nicely bloodthirsty opening. Though in hindsight, I can anticipate his complaint…
What's to like?
Gooseberry's enthusiasm, vibrant narration and diligent attempts to solve the case. The irony inherent in Gooseberry's involvement. The echoes from 'The Duchess of Malfi'. (Although I did reread Webster's work as preparation for this and felt on reflection that it was unnecessary; reading a summary would have sufficed.)
I love Gooseberry's enjoyment of language and his (occasionally erroneous) definitions that pop up occasionally:
'I should perhaps explain that "cursory" has nothing to do with cursing, no matter how similar the words may look. It's more about having insufficient time to do a job thoroughly or, as was the case here, insufficient jurisdiction and experience.'
There's a wonderful mixture of pomposity and innocence, knowledge and ignorance, that makes his narration a pleasure to read.
What's not to like?
Hmm. The idea that Gooseberry has unwillingly become the head of London's criminal underworld defies belief. Of course, it's arguable that a 14 year old sleuth / Chief Investigator isn't exactly realistic anyway, (certainly Mr Bruff keeps nearly referring to his erstwhile investigator as a mere 'office boy',) but I can only suspend my disbelief so far and found – although it certainly allowed for some wonderful comic moments – that this new role was a touch too silly for my liking.
Final thoughts
When I first finished this I wasn't sure I had enjoyed it as much as its predecessor. There seemed to be more minor niggles (did I really care whether or not this lazy Scotsman was Gooseberry's dad? Why is a dog involved?) and the pace felt slightly 'off' (there are three chapters of epilogue).
However, now that I've had a few days to reflect on the final text as a whole, I feel much more positive again. I always appreciate a story where the threads all come together, and when Gooseberry finally gets it right, everything works out just perfectly. The ending is quite lovely and I'm once more genuinely excited for Gooseberry's next outing – perhaps with the older George as a kind of Dr Watson figure?
Recommended for fans of Victorian fiction, crime fiction and revenge tragedy. But. Read 'Gooseberry' first. Go on. There's an extract here or the opening chapters of 'Octopus' are here.
'Octopus: The Case of the Throttled Tragedienne',
Michael Gallagher,
2016, Seventh Rainbow Publishing, ARC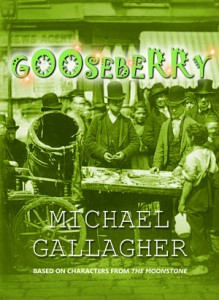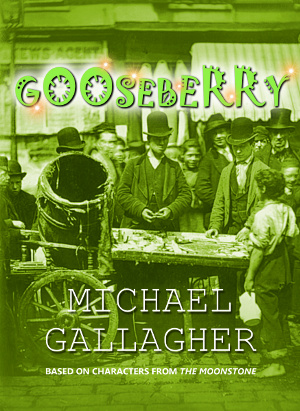 Thanks to the author for providing me with a free copy of the book in exchange for an honest review.