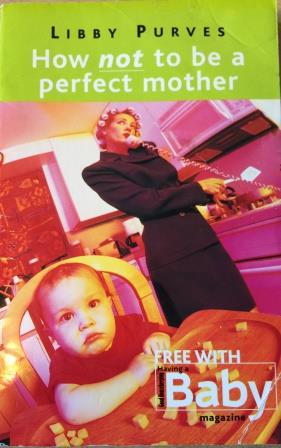 After all, the perfect way to spend my child-free time is to read about how to parent children, right? As you can tell from the rather fluorescent cover image depicting a 'busy' mum, this is quite an old book (first published in 1986), but I thought the basics of childcare can't have changed that much in thirty odd years..can they?
What's it about?
The title is pretty clear, but the introduction elaborates on journalist and author Libby Purves' central principle: 'Any mother would lay down her life for her child…but I see no reason to do it every single day'. To that end, she advocates cutting corners where reasonable and practicable, and finding ways to meet mother and baby's needs at the same time, explaining how she powered through the early pain of breast-feeding by convincing herself that 'the more breast milk I get down the baby, the less chance there is of having to nurse him through frightening baby illnesses.'
The book covers pregnancy, birth, newborns, bigger babies (lovingly referred to in the chapter title as 'vandals'!), returning to work, childcare, siblings and holidays, concluding with the words of experienced mothers giving some final bon mots.
What's it like?
Irreverent in tone, often entertaining and very practical. (Why not let children play with (safe) items that aren't 'toys'? Personally I didn't need any convincing on this score; one trick I relied upon to complete the washing up when my two were small enough to bounce in a chair at my feet was to issue them with a new, extremely exciting item from the pantry to shake about every few minutes.)
Purves advocates hiding items you don't want to be touched rather than engaging in power struggles and sweeping up the inevitable breakages. She takes a robust attitude towards children who don't seem to eat enough, recalling that she would 'just top hunger-strikers up with a warm mug of milk at bedtime and issue vitamin drops, hoping for the best'. It is impossible to argue with the common sense behind these suggestions, and my own experience (both of following and of not following her advice) confirms that the 'easy option' is actually the most effective in many respects. (Sitting a small child in front of a plate of peas they've already rejected and insisting that they eat every one is time-consuming, stressful and counter-productive.)
Generally, the attitudes and advice are still relevant, but, unsurprisingly, a few aspects feel very dated. These are basically the stay in hospital (now more likely to last hours than days), attitudes around returning to work and the childcare arrangements (one chapter is completely focused on the use of nannies and no sustained reference is made to any other option). Overall, this isn't an issue, and it is an interesting insight into how attitudes have changed since the early 80s.
Final thoughts
This is an entertaining and practical, albeit slightly dated, guide to several key aspects of parenting the under 5's. This is absolutely not an instruction manual or a how-to guide, but could make quite a relaxing and reassuring read for a woman expecting her first baby.
It's worth looking out a copy purely for the suggestions Purves gives on entertaining bigger babies. My favourites? 'It is actually worth packing a small suitcase specifically so that the baby can unpack it all over the floor', and 'Mummy lying down…just lie down on the floor on your stomach (with a paperback if you like) and allow the infant to crawl all over you'. I can confirm that both are highly effective as forms of entertainment, though God forbid you ever actually try to *pack* a suitcase with small children present…
Well worth a read if you spot a copy and have a very small / impending baby.
'How not to be a perfect mother',
Libby Purves,
1993, HarperCollins, paperback