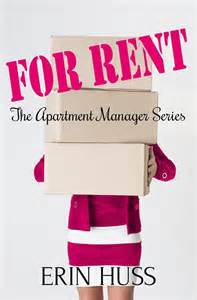 So you're an apartment manager and you blog about your experiences.
What's the logical next step? Writing a story about an apartment manager, of course. Heck, why not be ambitious and aim for a whole series of books? As Erin Huss, owner of The Apartment Manager's Blog, says on her Goodreads page, "I have a lot of inspiration right at my fingertips." Her blog contains many mildly humorous anecdotes, so I was expecting a similarly light style; this is the kind of fiction that's easy to pick up and keep track of.
What's it about?
Cambria Clyne is about to be evicted from her apartment. She has a young daughter, debts and no job, so her life can only get better. Right?
Having applied for jobs as a phone sex operator and burger flipper, Cambria pins her hopes on one final interview. Becoming an apartment manager sounds simple enough, though the outgoing apartment manager seems very keen to leave (a fact that escapes our erstwhile heroine, who's too busy spluttering through Joyce's nicotine fog to insist that the outgoing manager should actually offer her some training besides 'don't go in the third courtyard – ever').
'It was clear this was a ship of fools, and I was the captain, janitor, psychologist and cruise director.'
Almost immediately, Cambria realises that she may have taken on more than she can handle, but refuses to be fazed by her own ignorance, the maintenance man's incompetence or the tenants' myriad 'quirks'. She will keep her job and she will solve the sudden crime wave afflicting the previously staid apartments, even if half the residents are threatening to leave and the other half are mad. After all, she's out of options. Unless baby-daddy Tom wants to throw a lifeboat out of the FriendZone…
What's it like?
Imagine Stephanie Plum retired from bounty hunting to become an apartment manager. As Cambria herself explains, 'running toward mediocrity felt more natural', and 'I had a habit of sprinting to the absolute worst possible conclusion, and then sticking to it, unable to let go even if I wanted to, hostage to an exaggerated mind and the continual "what ifs".' Like Plum, she has car troubles ('If someone stole my car, I'd be…Who was I kidding? No one would steal my car.'), man troubles ('I couldn't tell if he was flirty-teasing or insult-teasing. Should I be upset or aroused?') and finds it impossible to keep away from danger.
The odd tenants are mildly entertaining, though it's Cambria's interactions with them that provide the real 'meat' of the comedy. For instance, the gossipy nature of communal living becomes abundantly clear when Cambria finds herself accused of not just her usual sins (not being Joyce, allowing crime to occur), but of having a threesome with two elderly residents (possibly the most entertaining moment in the whole book).
The storyline is relatively engaging for most of the book; there're plenty of hints that Cambria has taken on more than she signed up for and then there's a genuine question mark surrounding who is causing all the 'crime'. Unfortunately, the ending is a little weak and seems to exist purely to create a set-up for what will (presumably) be the next book in the series. So far Huss has opted to pen a novella prequel and what appears to be some kind of featurette focusing on rent collection, but the branding strongly implies there's a second novel planned at some stage, as does the ending of 'For Rent'.
At the close of the storyline (which, incidentally, never explains why residents' cars were being targeted (thereby drawing attention to more substantial crimes!) or how exactly a key incident occurred), we're treated to an epilogue that exists largely to introduce the idea of one character plotting revenge against Cambria. It really annoys me when authors do this. Trust your own writing. If you wrote a good enough book, people will want to read the next in the series because they like your style, rather than because you've introduced a clanger of a cliffhanger to drum up sales.
Final thoughts
This was easy to read and intriguing enough to keep me reading until 2am one night, but for all its similarities to Janet Evanovich's novels (Cambria is even torn between two men, one 'safe', one toe-curlingly sexy but a bit more dangerous), the weak ending left me feeling underwhelmed and I really didn't appreciate the lead-in to book two. There's definitely an audience for this lightly humorous mystery, but I think I'm going to stick with Stephanie Plum when I want to read about a plucky-but-slightly-daft heroine sticking her nose into dangerous waters.
'For Rent',
Erin Huss,
2016, Velvet Morning Press, ebook
Thanks to Librarything Early Reviewers for providing me with a free copy of this ebook in exchange for an honest review.