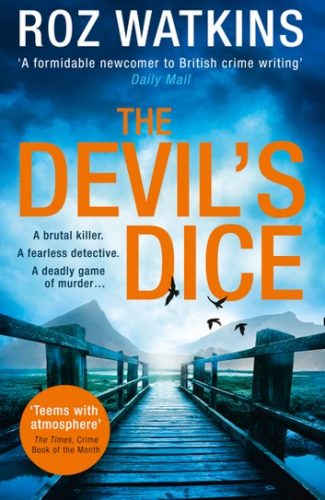 'The Devil's Dice' by Roz Watkins
You know it's a good book when you giggle out loud three times during the first chapter.
You know it's a fabulous book when it just gets more and more interesting as you get to the heart of the plot.
What's it about?
A lawyer is found dead in a cave in the Peak District, apparently having eaten a poisoned cake.
New DI Meg Dalton is convinced this is murder, but local gossip about a curse seems almost validated by the century old image of the grim reaper carved into the wall above the victim – alongside his initials.
Can Meg uncover the truth about the curse before more people die?
What's it like?
Engaging, intriguing and occasionally philosophical.
A potent blend of police procedural and daft detective venturing out on a limb.
Meg Dalton is simultaneously smart and stupid, able to recognise mathematical truths and when suspects are withholding information or grinding an axe, but also ready to justify venturing alone into dark underpasses to talk to reluctant witnesses with known mental health issues. (Unsurprisingly, this doesn't go quite to plan.)
Her concerns and neuroses make her eminently likeable, and though I'm sure she must spend the entire second half of the book struggling with a concussion from her frequent violent encounters, her insights into the case continue to place her in the thick of the plot. Expect her to keep going til the bitter end, despite clearly having earned a space in A&E and a weekend's R&R.
I thoroughly enjoyed the banter between Meg and Jai, her preferred DS (Craig, her other DS is a mostly unredeemable sexist pig), though I would prefer it if he and Meg weren't obviously being established as potential romantic partners. Can men and women ever support each other without the potential for something physical / romantic to happen? Maybe not in 'The Devil's Dice', otherwise Jai would surely tell Meg to sod off when she suggests what is essentially a suicide mission.
Deadly themes
Speaking of suicide, it seems fair to warn readers that this book explores the concept of assisted suicide. It does so effectively and in ways that tie the whole plot together beautifully, though I think Watkins' final feelings on the matter can be determined by considering the nature of the individuals she has representing the life-at-any-cost brigade.
Enjoyable excerpts
'I needed to rethink my fitness regime, which mainly consisted of reading articles in New Scientist about the benefits of exercise.'
***
'Of course it was terrible that a man was dead, but if he'd had to die, at least he'd done it in an intriguing way, and when I happened to be nearby.'
***
'And he was dead when he was found?'
'That's right. Although I've seen deader.'
'Can you be just a little bit dead?'
Ben folded his arms. 'If there are no maggots, you're not that dead.'
Final thoughts
I thoroughly enjoyed this first outing for DI Meg Dalton and look forward to reading Roz Watkins' next book in this series, 'Dead Man's Daughter'.
'The Devil's Dice',
Roz Watkins,
2019, HQ, paperback